Claude Bourbon, Classical/blues guitarist and singer
Saturday, April 28, 2018 @ 8:00 pm
$20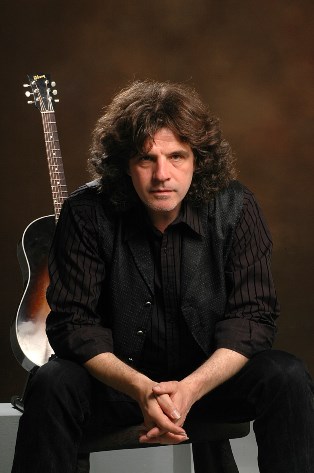 Claude is making his first appearance in our series. He is a mesmerizing guitarist with a strong background in classical guitar, along with solid familiarity with blues as well. Claude, who also sings, is French, though he grew up in Switzerland and now lives in the United Kingdom. He has fans on both sides of the Atlantic as a result of his frequent tours of both the United States/Canada and Europe. He plays a Gibson acoustic six string guitar and his repertoire includes bluesy pieces like Gershwin's Summertime, as well as classical pieces, like Ravel's Boléro
Dave Baily wrote in a review of a show at St. Kyneburgha Church in Peterborough, England:
"His fingerpicking is exquisite and if I closed my eyes I could clearly hear two guitars playing. Just when I recongnised a theme he moved on with a mesmerising cascade of notes which kept on flowing. He added a driving bass, for a version of "She knows how to stretch it". By the time he sang the first verse he had 'stretched it' from Spain to the Caucuses, and from the concert hall to the bar room. His forte is obviously his wonderful guitar work, but he does occasionally burst into song and what you then get is something between Bob Dylan and Cat Stevens, combined with a French accent! C'est magnifique.". Claude's web site is www.claudebourbon.org
The show will be in Beckman Institute Auditorium ("little Beckman") at 400 South Wilson Avenue. On concert night, free parking is available in the lot behind Beckman Auditorium ("Big Beckman), but this lot may fill up, especially if there are other events on campus that night. You can always find parking for our shows in the two parking structures on Wilson Avenue, just south of Del Mar Boulevard. On weekends and after 6:00 PM, you may park in spaces that have individual names. Restrictive wording at the structures refers to weekdays before 6:00 PM. There is also parking available on Wilson Avenue itself. Beckman Institute is on the other side of the large lawn on Wilson Avenue, on the first floor of the left portion of the building. If you get to the fountain and pools that point toward the white, round, building (Beckman Auditorium (what we refer to as "Big Beckman," you have gone too far. See this map. Beckman Institute is building #74 and the parking structures are #123 and #124. Tickets are $20 for adults and $5 for children and Caltech students. They are now available at the Caltech Ticket Office by calling (626) 395-4652 and at the Caltech Ticket Office in their new location at 1200 E. California Boulevard in Pasadena (Southeast corner of Wilson Avenue). Their usual hours are 10:00 a.m. to 4:30 p.m., Monday through Friday. They are available online as well, click the button below. There is a fee for phone orders and for online tickets, while purchases at the Ticket Office are free. Tickets can also be purchased (without additional fee) at the door of the venue one half hour before the show, but it is always wise to call the Ticket Office a day or two before a show to ensure they are not close to a sold out show. We hate to have to turn people away, which occasionally happens! Join our mailing list and you'll be sure to be notified about the show a few weeks ahead of time.
More Info: www.claudebourbon.org
Tickets: $20 / $5 for Caltech students and children.