Miller | MacDonald | Cormier
Saturday, May 18, 2019 @ 8:00 pm
$20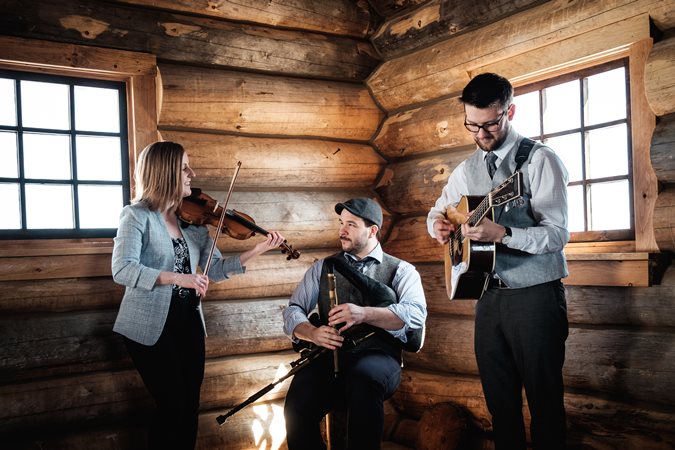 Celtic trio, Miller||MacDonald | Cormier will perform on Saturday, May 18 at 8:00 PM. The show will be in Beckman Institute Auditorium, our usual, intimate venue, Beckman Institute Auditorium, just west of the better known, but similarly named, Beckman Auditorium (the big white and round building at the end of Michigan Avenue). They will be making their second appearance at Caltech, following their debut in 2017, when they were still officially a duo, called Ben Miller and Anita MacDonald. Ben plays the Scottish Lowland pipes, Anita plays Cape Breton fiddle, and they join together the threads of Old and New World traditions, while constantly exploring new ways to bring their two traditions closer together. Zakk Cormier, a dynamic musician with deep roots in his own Franco-Celtic tradition, from Prince Edward Island, backed them up in their previous performance here, and he now returns as an official member of the trio. Zakk brings his talents as a sympathetic guitar accompanist, as well as the driving rhythms of Acadian foot-percussion to the mix. Now based in Halifax, Nova Scotia, Canada. they have a new recording together, South Haven, in which they have created a powerful sound, transcending the boundaries between Cape Breton, Scottish, and Acadian traditions. They have been described as "playful, poignant, and passionate all at once" as well as "fresh, yet totally traditional." Their performances are a unique blend of driving dance music transcending boundaries – equally at home at a kitchen ceilidh or on a late night festival stage. In 2018-2019, they have been nominated for 4 awards, including ROOTS TRADITIONAL ALBUM OF THE YEAR, and INSTRUMENTAL RECORDING OF THE YEAR. They will definitely get your feet moving. If you like Celtic music, you are sure to love this concert!
Tickets are $20 for adults and $5 for children and Caltech students. They are available at the Caltech Ticket Office by calling (626) 395-4652 and at the Caltech Ticket Office at 1200 E. California Boulevard in Pasadena (Southeast corner of Wilson Avenue). Their usual hours are 10:00 a.m. to 4:30 p.m., Monday through Friday. Tickets are sold for face value if you come to the Ticket Office. There are fees for phone orders by credit/debit card and for online tickets as well.
The show will be in Beckman Institute Auditorium at 400 South Wilson Avenue. On concert night, free parking is available in the lot behind Beckman Auditorium (the large round, white building at the end of Michigan Avenue), but this lot may fill up, especially if there are other events on campus that night. You can always find parking for our shows in the two parking structures on Wilson Avenue, just south of Del Mar Boulevard. On weekends and after 6:00 PM, you may park in spaces that have individual names. Restrictive wording at the structures refers to weekdays before 6:00 PM. There is also parking available on Wilson Avenue itself. Beckman Institute is on the other side of the large lawn (currently a staging area for nearby construction) on Wilson Avenue, on the first floor of the left portion of the building. If you get to the fountain and pools that point toward the white, round, Beckman Auditorium, you have gone too far. See this map. Beckman Institute is building #74 and the parking structures are #123 and #124.