Mother's Boys (Peter Feldmann, Rick Cunha, David Jackson & David Dawson) : An evening of the music of the Carter Family at Caltech
Saturday, August 4, 2018 @ 8:00 pm
$20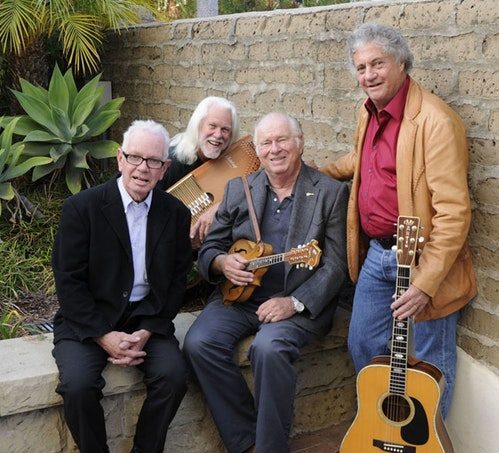 Mother's Boys is a relatively new ensemble of four extremely talented veteran musicians who have come together to play some of the great songs of the Carter Family, the trio from the Clinch Mountain area of Virginia, who took the world of country music by storm in the late 1920's, 1930's and early 1940's. Songs like You've Been a Friend to Me, Keep on the Sunny Side, Will the Circle Be Unbroken, and many others, live on today, and this quartet has done a wonderful job performing some of these songs on last year's recording, Home Among the Hills: a Musical Tribute to the Carter Family. The album includes guest appearances by Moira Smiley, Fred Sokolow, Susie Glaze, Laurie Lewis and Aubrey Richmond, so it is quite a production. We'll be treated to Mother's Boys' fine vocals and harmonies, plus their most excellent instrumental skills, with Peter Feldmann on mandolin and guitar, Rick Cunha on guitar, David Dawson on autoharp, and David Jackson on bass. Peter performed at Caltech four years ago with the Very Lonesome Boys, as well as way back in 1999 along with Richard Greene and Tom Sauber. He is not only a widely known and respected musician and singer, but he is very knowledgeable historian who has written about old time, bluegrass, and folk music in general. We are very happy to welcome him back. Rick Cunha, a very fine vocalist, songwriter, and guitarist, who has worked with Mason Williams, the Smothers Brothers, Emmylou Harris, and many others, will be making his Caltech debut. He spends most of his time these days working for others in his recording studio and his appearances are far too scarce. We're delighted to bring him out of the shadows! David Jackson is an bass player extraordinaire, and he has worked with Hoyt Axton, Van Dyke Parks, John Denver, Jackson Browne, and many others. He performed in our series with the group New West, some years ago. David Dawson met Rick Cunha in Hawaii, and along with Rick, formed a folk/rock group, Hearts and Flowers, after they both moved to Los Angeles. He left the music world for the art world some years ago, when he moved to Colorado, but then released an autoharp album, Listen, a few years back. He has also recorded and performed with people like Linda Ronstadt and Jennifer Warrens. These four fine musicians do a fine job of celebrating the music of the Carter Family. Don't miss the chance to hear them!
The show will be in Beckman Institute Auditorium ("Little Beckman") at 400 South Wilson Avenue. On concert night, free parking is available in the lot behind Beckman Auditorium ("Big Beckman), but this lot may fill up, especially if there are other events on campus that night. You can always find parking for our shows in the two parking structures on Wilson Avenue, just south of Del Mar Boulevard. On weekends and after 6:00 PM, you may park in spaces that have individual names. Restrictive wording at the structures refers to weekdays before 6:00 PM. There is also parking available on Wilson Avenue itself. Beckman Institute is on the other side of the large lawn on Wilson Avenue, on the first floor of the left portion of the building. If you get to the fountain and pools that point toward the white, round, building (Beckman Auditorium, which we refer to as "Big Beckman," you have gone too far. See this map. Beckman Institute is building #74 and the parking structures are #123 and #124. Tickets are $20 for adults and $5 for children and Caltech students. They will soon be available at the Caltech Ticket Office by calling (626) 395-4652 and at the Caltech Ticket Office in their new location at 1200 E. California Boulevard in Pasadena (Southeast corner of Wilson Avenue). Their usual hours are 10:00 a.m. to 4:30 p.m., Monday through Friday. They will be available online as well. There is a fee for phone orders and for online tickets, while purchases at the Ticket Office are free. Tickets can also be purchased (without additional fee) at the door of the venue one half hour before the show, but it is always wise to call the Ticket Office a day or two before a show to ensure they are not close to a sold out show. We hate to have to turn people away, which occasionally happens! Join our mailing list and you'll be sure to be notified about the show a few weeks ahead of time.
More Info: Mother's Boys
Tickets: $20 / $5 for Caltech students and children.
Mother's Boys is a pretty new band and there aren't any videos of them, but listen to them sing A. P. Carter's You've Been a Friend to Me! If you'd like to know more about the Carter Family, you can check with Wikipedia or view a fine 4 part documentary (about an hour in all), The Carter Family: Will the Circle Be Unbroken, narrated by Robert Duvall