Scottish group Old Blind Dogs at Caltech
Friday, February 23, 2018 @ 8:00 pm
$25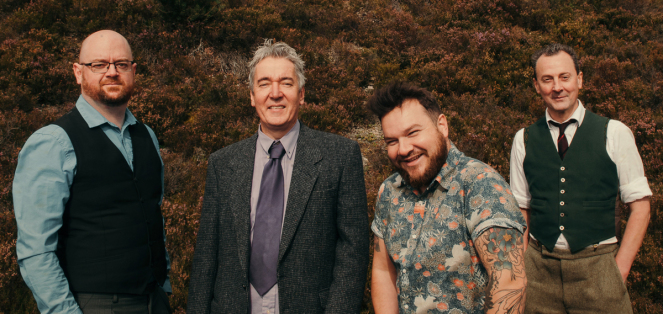 Scotland's Old Blind Dogs, from Aberdeenshire, on Scotland's northeast coast, has been one of the most popular acts (two of the shows sold out!) in our series over the years. Consisting of Jonny Hardie, (fiddle & vocals), Aaron Jones (bouzouki, guitar, bass, and vocals), Ali Hutton (pipes, whistles & guitar), and Donald Hay (percussion). Because of some visa issues, there was a rough patch in the last few years, as they had to cancel a tour in 2015, and then in 2016, it was necessary to have Jenna Moynihan fill in (quite capably!) for founding member, Jonny, when his situation couldn't be settled. We are happy to report that we will have the entire band this time around and they have a brand new recording, Room with a View out! The band is going strong and they have already made one US tour in 2017, so everything has been resolved. The Scotsman wrote: "The Old Blind Dogs play with a compelling energy and intoxicating rhythm, players and audience seem to share a wild ecstasy of emotion." Their soaring fiddle playing, stirring pipes, and fine singing, punctuated by extraordinary percussion, will certainly resonate once again in this small auditorium. Please note that this is one of our rare FRIDAY shows!
Tickets are $25 for adults and $5 for children. They are available for purchase at the Caltech Public Events Ticket Office in the Spalding Building (California Blvd. and Wilson Avenue) for face value (open Monday-Friday from 10:00 AM to 4:30 PM. They can be ordered by phone (with a service charge) by calling the Ticket Office at (626) 395-4652. Tickets can be purchased at the door for cash or check (no credit cards.) Occasionally, a show will be sold out before the day of the show, so call the Ticket Office, if you are planning to buy tickets at the door. Better yet, join our mailing list and you'll be informed about such situations ahead of time. You can buy them online (with a service charge) until February 21 by clicking on the button below.
More Info: www.oldblinddogs.co.uk
Tickets: $25 / $5 for Caltech students and children.