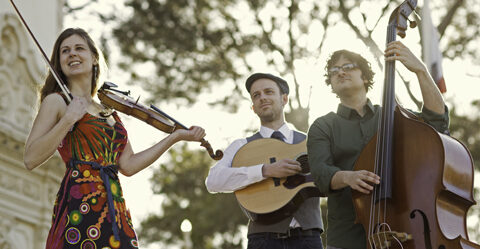 The Mari Black Trio will perform joyous, dance-inspired fiddle tunes from many lands on Saturday evening, Sept. 16, at 8 p.m. in Pasadena. The program, "Fiddling Around the World", will include Celtic, American and Canadian fiddle styles, plus swing, tango, klezmer, and some musical surprises.
Mari Black plays in diverse styles with sparkling virtuosity that wins major fiddle competitions, earning her Scotland's Glenfiddich Fiddle Championship, the U.S. National Scottish Fiddle Championship and the Canadian Maritime Fiddle Championship.  Her talent, enthusiasm and playful storytelling help lift toe-tapping audiences on an international musical adventure.
Black's spirited performances get people dancing in the aisles and singing her praises.  Here is Willie Ruff, director of Yale University's Ellington Jazz Series, about Mari Black: "Superb, inspiring, and unforgettable! Her magic is such that she sweeps audiences along with the sounds she and her instrument make."  Additionally, she has won renown for her original tunes (e.g. Reknot and Peepholes) and her teaching.
It's no coincidence that Mari Black's will be our first concert in Beckman Institute Auditorium in more than three years.  She was scheduled to perform there in April 2020.   As the pandemic persisted and other complications arose, we kept in touch with her to fulfill this long-postponed treat when it became possible.
The Venue, Tickets and Parking
For the first time since before the pandemic, this Pasadena Folk Music Society concert will return to our cherished venue – the Beckman Institute Auditorium – at 400 South Wilson Avenue, in the Beckman Institute building  just west of the much-larger, round Beckman Auditorium. Most of our 400-plus concerts have been presented in this smaller, more intimate venue, where all 200 seats are close to the performers.
Advance electronic tickets are now available online here for this special show at Beckman Institute Auditorium on the Caltech campus. Electronic tickets are $25 apiece, plus a $4 convenience fee, or $10 apiece for Caltech students and anyone age 16 or younger.  Tickets will also be available at the door,  cash or check only, without an added convenience fee.  The Caltech Ticket Office plans to have phone orders available by next week, at 626-395-4652, from 10 a.m. to 2 p.m. Tuesday through Friday.
On Sept. 16 and other weekend evenings, free parking is available in the lot north of Beckman Auditorium, off Michigan Avenue just south of Del Mar Boulevard.  This lot might fill up, especially if there are other events on campus that night.  You can find additional parking for our shows in two parking structures on Wilson Avenue in the first block south of Del Mar.  On weekends and after 6 p.m., parking is allowed even in spaces labeled with individual names.  On this Caltech campus map, Beckman Institute is building #74 and the parking structures are #123 and #124.  Also, street parking is available along Wilson and some other nearby streets.