Kevin Burke, extraordinary Celtic Fiddler, Saturday, December 15
Saturday, December 15, 2018 @ 8:00 pm
$20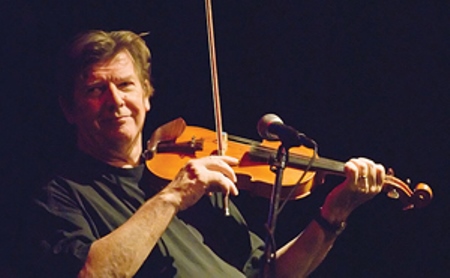 We are delighted to welcome back a longtime friend and major figure in Celtic music, fiddler, Kevin Burke. In a 30-plus year career, Kevin has played with the Bothy Band, Patrick Street, Open House, the Celtic Fiddle Festival, and in many other combinations. As fine as he is with these various accompanists, it is sheer pleasure to hear him with his "naked fiddle," as he calls it. Kevin first performed here in 1983 with the late, great Irish singer, Micheal Ó Domhnaill, and then returned in 1985 with Andy Irvine and Gerry O'Beirne. In 1993, he returned with his group, Open House, and he did his first of 3 solo shows here in 2001.  He also performed here with his group, Celtic Fiddle Festival in 2015. Kevin plays in the fluid, highly-ornamented style of County Sligo and is a recipient of the NEA's National Heritage Award.
The New York Times describes Kevin as "a superior instrumentalist in any idiom……impressively virtuosic." The Washington Post writes of his "lyrical style that is always emotionally electric," and the Irish Times says that "Burke's fiddling is one of the high spots of the current Irish musical scene." Folk Roots described his music, "Sublime fiddle playing from Burke …. each moment, just right" Folk Roots.  The Village Voice wrote that his playing is "lyric, fluid and precisely as tricky as he needs to be…probably the greatest Irish fiddler living."
Along with his wonderful music, he's a thoroughly charming man and this promises to be a delightful evening!
Tickets: $20 / $5 for Caltech students and children