Lauren Sheehan and Susie Glaze sing contemporary and traditional songs from the great American folk songbook
Saturday, January 12, 2019 @ 8:00 pm
$20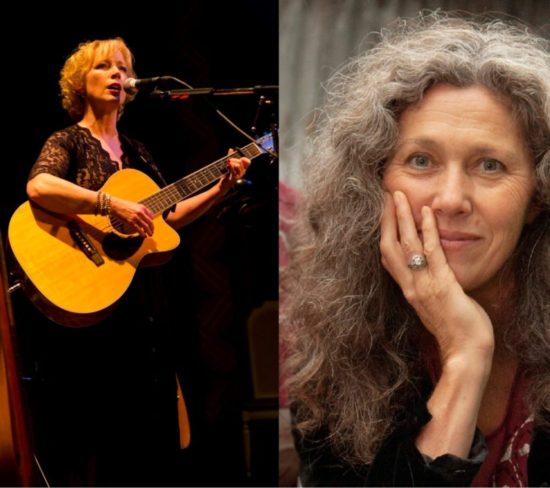 Lauren Sheehan and Susie Glaze share a deep connection to traditional American music with two divergent paths.  They discovered that these paths met beautifully when they joined forces to present a workshop in 2017 at the FAR-West (Regional Folk Alliance) conference on the uses of traditional music for contemporary songwriting.  On these two topics these artists are well-versed, as their solo shows feature songs from traditional sources and their own contemporary songwriting, which is typically infused with influences from the great American folk songbook.
The workshop experience was so powerful that it inspired the idea to perform together more.  The shows in Southern California will be their first shows together, and they are very excited to join forces once again!
While Lauren and Susie both have a deep fluency with Anglo-influenced Appalachian music, they bring great variety and contrast to their show.  Susie's former Hilonesome Band furnished her with many original contemporary folk/Americana tunes ("the new ones that sound like old ones"!) and favorites from their albums such as "Blue Eyed Darlin'", White Swan" and "The Dark Eileen" while also presenting covers of classics from the great Steve Earle, Linda Thompson, David Olney and John Prine.  And her set is never fully complete without a few from her beloved Jean Ritchie.  For Lauren, expect music played by Elizabeth Cotton, Mississippi John, Hurt, Robert Johnson, Carter Family, E.C. Ball, Hank Williams, Gillian Welch and others, delivered with extremely personal expression.
Lauren will begin the show for a solo set, with her powerful and beautiful guitar and voice, and then Susie will bring up her quartet, the New Folk Ensemble, featuring Steve Rankin on mandolin, Fred Sanders on bass and Mark Indictor on fiddle.  Each artist will do a set and they will all join together for a few songs to close.  Expect some bits of folklore, personal stories and historic detail to flow between songs.
About Lauren Sheehan: 
This "one woman Americana juke-box …" (Huffington Post), sings and fingerpicks guitar, banjo and mandolin.  She has been playing dance and social music for over 40 years, starting with Contra dance music in Massachusetts, then adding Irish music, old weird American modal music and songs from the south, country blues and early jazz,  tin pan alley, modern folk and original songs.  She breathes her modern soul into vintage music while retaining nuances and characteristics from the old time, and her stylistic breath, combined with her vocal and instrumental chops, is impressive.  She has played with several National Heritage Fellows and makes a habit of meeting and playing with great musicians as she tours and works around her home in the Pacific Northwest.  Lauren's music has been featured on BBC, NPR, Sirius Radio, and is catalogued in the Library of Congress.

About Susie Glaze:
Award-winning recording artist, journalist and critically-acclaimed powerhouse vocalist, Susie Glaze has been called by Bluegrass Unlimited "…an important voice on the California Bluegrass scene" and by Roz Larman of KPFK's Folkscene "…one of the most beautiful voices in bluegrass and folk music today." A native Tennessean, Susie appeared on Broadway in Roger Miller's "Big River" and in California her work with folk, bluegrass and Americana production includes performing, recording, journalism, Board member of FAR-West, and producing events. Her mentorship with the great Jean Ritchie was an honor when Susie was included on the tribute album Dear Jean, Artists Celebrate Jean Ritchie. "A flat out superb vocalist… Glaze delivers warm, amber-toned vocals that explore the psychic depth of a lyric with deft acuity and technical perfection," wrote LA Weekly. And referring to Susie, Jean Ritchie said, "…with people like this to trust, my music will go on living, and soaring. And, so will I."
The show will be in Beckman Institute Auditorium ("Little Beckman") at 400 South Wilson Avenue. On concert night, free parking is available in the lot behind Beckman Auditorium ("Big Beckman), but this lot may fill up, especially if there are other events on campus that night. You can always find parking for our shows in the two parking structures on Wilson Avenue, just south of Del Mar Boulevard. On weekends and after 6:00 PM, you may park in spaces that have individual names. Restrictive wording at the structures refers to weekdays before 6:00 PM. There is also parking available on Wilson Avenue itself. Beckman Institute is on the other side of the large lawn on Wilson Avenue, on the first floor of the left portion of the building. If you get to the fountain and pools that point toward the white, round, building (Beckman Auditorium, which we refer to as "Big Beckman," you have gone too far. See this map. Beckman Institute is building #74 and the parking structures are #123 and #124. Tickets are $20 for adults and $5 for children and Caltech students. They are available at the Caltech Ticket Office by calling (626) 395-4652 and at the Caltech Ticket Office in their new location at 1200 E. California Boulevard in Pasadena (Southeast corner of Wilson Avenue). Their usual hours are 10:00 a.m. to 4:30 p.m., Monday through Friday. They are available online here. There is a fee for phone orders and for online tickets, while purchases at the Ticket Office are free. Tickets can also be purchased (without additional fee) at the door of the venue one half hour before the show, but it is always wise to call the Ticket Office a day or two before a show to ensure they are not close to a sold out show. We hate to have to turn people away, which occasionally happens! Join our mailing list and you'll be sure to be notified about the show a few weeks ahead of time.