Fiddler Mari Black and the World Fiddle Ensemble- SHOW POSTPONED- CHECK BACK FOR NEW DATE
Saturday, April 18, 2020 @ 8:00 pm
$20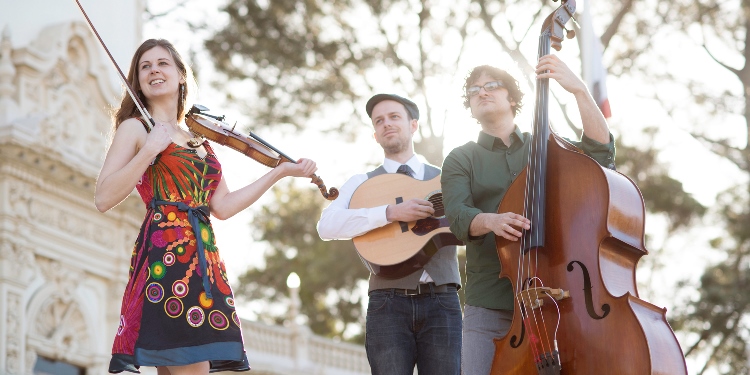 Master fiddler, Mari Black, is bringing her World Fiddle Ensemble to Pasadena for a show called Fiddling Around the World. The show is a high-energy tour of fiddle music from all different corners of the globe, featuring a bit of background about the tunes, with Mari as the musical tour guide. She has won numerous contests and honors, and her passion for the fiddle knows no bounds. From her hometown of Boston she has played concerts in Scotland, Brazil, Canada, China, Korea, Zimbabwe, Hungary, Poland, the Czech Republic, Italy, and France, and she can't wait for the next stop! She has played folk venues, jazz concert series, Argentine tango festivals, and world-famous classical concert venues including Carnegie Hall. She draws from jazz, tango, folk, Western classical, as well as Celtic, American, and Canadian fiddling. Her performances take listeners on a musical journey exploring the diversity and celebrating commonalities in the dance-driven folk musics of the world. She has has appeared with such diverse artists as Irish fiddle champion Liz Carroll, Americana master Mark O'Connor, and jazzman Willie Ruff. Audiences are taken not just by her musical prowess, but also her passion and energy. Dr. John Turner, 10-time U.S. National Scottish Fiddle Champion, said, "Mari Black is an extraordinary musician; her sound is musical enthusiasm personified." Come take a trip around the world with us!
Tickets are $20 for adults and $5 for children and Caltech students. They are available at the Caltech Ticket Office by calling (626) 395-4652 and at the Caltech Ticket Office at 1200 E. California Boulevard in Pasadena (Southeast corner of Wilson Avenue). Their usual hours are 10:00 a.m. to 4:30 p.m., Monday through Friday. Tickets are sold for face value if you come to the Ticket Office. There are fees for phone orders by credit/debit card and for online tickets as well. You can also buy tickets at the door on the night of the show with no additional fees. We begin admitting people into the auditorium at about 7:15 PM.
The show will be in Beckman Institute Auditorium at 400 South Wilson Avenue. On concert night, free parking is available in the lot behind Beckman Auditorium (the large round, white building at the end of Michigan Avenue), but this lot may fill up, especially if there are other events on campus that night. You can always find parking for our shows in the two parking structures on Wilson Avenue, just south of Del Mar Boulevard. On weekends and after 6:00 PM, you may park in spaces that have individual names. Restrictive wording at the structures refers to weekdays before 6:00 PM. There is also parking available on Wilson Avenue itself. Beckman Institute is on the other side of the large lawn (currently a staging area for nearby construction) on Wilson Avenue, on the first floor of the left portion of the building. If you get to the fountain and pools that point toward the white, round, Beckman Auditorium, you have gone too far. See this map. Beckman Institute is building #74 and the parking structures are #123 and #124.