John McCutcheon Online
Saturday, May 7, 2022 @ 5:00 pm
$20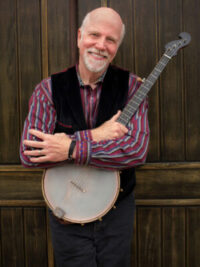 Our online John McCutcheon concert, "The Story Behind the Song," will occur on May 7.  You can get tickets at this link up to the last minute, but one special feature is that McCutcheon (photo above) is taking requests, and he asks to get them early.
Unlike our other online concerts so far this year, the May 7 one is on a Saturday, at 5 p.m.  Like the others, a ticket will entitle you to enjoy it any time for two days afterward, in case the show time is inconvenient or you want to hear it again. McCutcheon is an accomplished storyteller as well as a musician and songwriter.  The International Storytelling Center says he has "a storytelling style compared to Will Rogers and Garrison Keillor."  In this solo show, he'll tell about songs that ticket-holders request to hear.
"For years, because I write so many songs that are stories, people have been wanting to know: 'Well, how did you come up with that?  What made you want to write something about that?  Is that true?'" McCutcheon said during his April 10 online show with other musicians.  When you receive your ticket confirmation from Mandolin (the outfit handling logistics of the show), that email will include a link for requesting a song.  "Get them in early," McCutcheon suggested, "because that will give me some time to prepare, especially if you want to hear a song I haven't done in a good long time."
Tickets for "The Story Behind the Song" are $20 plus a $4 handling fee.  You can find other pricing options in the drop-down menu next to "Livestream Ticket."  The options include discounts for students or unemployed people and premiums for a family/household ticket or music supporter ticket.  A portion of the ticket revenue through Mandolin comes to our Folk Music Society.  That helps with expenses related to resuming live, in-person concerts as concerns about the pandemic are resolved.
McCutcheon has written hundreds of songs. Many of them refer to historical events.  One of his best-known, Christmas in the Trenches, tells of a World War One holiday.  His heart-wrenching Streets of Sarajevo draws from cellist Vedran Smailovic's response to a 1992 bombing (which also led to a children's book, Flowers for Sarajevo, by McCutcheon and illustrator Kristy Caldwell).  McCutcheon's more-recent Zilphia's Piano sings about the origin of the anthem We Shall Overcome.  His Forgotten taps into  inspiration from Malala Yousafzai.  His Vote, Dammit!, from the late John Lewis.
For examples of how McCutcheon's storytelling introductions augment his songs, check this performance of Doing My Job, about baseball's Cal Ripken, or his introduction to Streets of Sarajevo beginning at minute 53 of this concert recorded in 2017.  He says Smailovic's 22-day tribute exemplifies a quote from Leonard Bernstein: "This will be our reply to violence: to make music more intensely, more beautifully, more devotedly than ever before."  It's fair to say that McCutcheon's own career does, too.