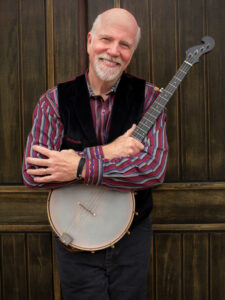 We're mighty excited that our first live, in-person concert in two years will be Old Blind Dogs on June 18.  But before more details about that, here's an update about our online John McCutcheon concert, "The Story Behind the Song," on May 7.  You can get tickets at this link up to the last minute, but one special feature is that McCutcheon (photo above) is taking requests, and he asks to get them early.
Unlike our other online concerts so far this year, the May 7 one is on a Saturday, at 5 p.m.  Like the others, a ticket will entitle you to enjoy it any time for two days afterward, in case the show time is inconvenient or you want to hear it again. McCutcheon is an accomplished storyteller as well as a musician and songwriter.  The International Storytelling Center says he has "a storytelling style compared to Will Rogers and Garrison Keillor."  In this solo show, he'll tell about songs that ticket-holders request to hear.
"For years, because I write so many songs that are stories, people have been wanting to know: 'Well, how did you come up with that?  What made you want to write something about that?  Is that true?'" McCutcheon said during his April 10 online show with other musicians.  When you receive your ticket confirmation from Mandolin (the outfit handling logistics of the show), that email will include a link for requesting a song.  "Get them in early," McCutcheon suggested, "because that will give me some time to prepare, especially if you want to hear a song I haven't done in a good long time."
Tickets for "The Story Behind the Song" are $20 plus a $4 handling fee.  You can find other pricing options in the drop-down menu next to "Livestream Ticket."  The options include discounts for students or unemployed people and premiums for a family/household ticket or music supporter ticket.  A portion of the ticket revenue through Mandolin comes to our Folk Music Society.  That helps with expenses related to resuming live, in-person concerts as concerns about the pandemic are resolved.
McCutcheon has written hundreds of songs. Many of them refer to historical events.  One of his best-known, Christmas in the Trenches, tells of a World War One holiday.  His heart-wrenching Streets of Sarajevo draws from cellist Vedran Smailovic's response to a 1992 bombing (which also led to a children's book, Flowers for Sarajevo, by McCutcheon and illustrator Kristy Caldwell).  McCutcheon's more-recent Zilphia's Piano sings about the origin of the anthem We Shall Overcome.  His Forgotten taps into  inspiration from Malala Yousafzai.  His Vote, Dammit!, from the late John Lewis.
For examples of how McCutcheon's storytelling introductions augment his songs, check this performance of Doing My Job, about baseball's Cal Ripken, or his introduction to Streets of Sarajevo beginning at minute 53 of this concert recorded in 2017.  He says Smailovic's 22-day tribute exemplifies a quote from Leonard Bernstein: "This will be our reply to violence: to make music more intensely, more beautifully, more devotedly than ever before."  It's fair to say that McCutcheon's own career does, too.
Old Blind Dogs, live at Caltech June 18
Now, more about plans for the first in-person Pasadena Folk Music Society concert since the start of the pandemic:
Old Blind Dogs plays traditional Scottish music with influences from jazz, blues, Middle Eastern music, reggae and rock.  The band has long delighted our Folk Music Society, with tickets sold out for some of its prior six concerts at Caltech.  This show will be at Caltech's Ramo Auditorium on Saturday, June 18, at 8 p.m.  To get tickets, phone the Caltech Ticket Office at 626-395-4652 between 10 a.m. and 2 p.m. Tuesdays through Fridays.  Plans by Caltech call for requiring proof of COVID vaccination or of a negative test within the latest 3 days. Wearing a mask at the event will be recommended but not required, according to current plans.
Old Blind Dogs formed in 1992 in Aberdeen, Scotland, and first played for our group (then the Caltech Folk Music Society) in 2002.  The band's personnel has changed some over the years, though it's still the same as for their excellent 2019 Caltech show.  The players are original-member Jonny Hardie on fiddle and vocals, with Aaron Jones (cittern/guitar/vocals), Ali Hutton (pipes/whistles) and Donald Hay (percussion/vocals).
"The Old Blind Dogs play with a compelling energy and intoxicating rhythm, …as players and audience seem to share a wild ecstasy of emotion," says a reviewer for The Scotsman, a Scottish national newspaper.  The band is known for soaring fiddle playing, stirring pipes, and fine singing, punctuated by extraordinary percussion.  A reviewer for the Bright Young Folk website says the current members "create such a tight sound with rhythms, harmonies, melodies and lyrics that sweep you along in whichever direction they choose."
The newest album from Old Blind Dogs is Knucklehead Circus. Check out a recorded performance of Thin Man, an instrumental track from the new album.  Another track, John Barleycorn, features spirited vocals.
Some other events in April & May
LitFest Pasadena 2022 continues through May 14.  It is series of events on three Saturdays and two Wednesdays that will bring acclaimed authors and new voices together "to engage in a variety of powerful and inspiring literary and social conversations."  The program of 27 free events at five different locations is available here.  They range from discussions of mystery books or California stories to panels about the craft of writing and a May 14 slate of poetry readings.
The calendar of public events at Caltech also includes two concerts in May in the large Beckman Auditorium.  Chanticleer, a 12-voice chorus known for its wide-ranging repertoire and dazzling virtuosity, will perform there at 7:30 p.m. on Friday, May 13.  For the $45 tickets, call Caltech ticket office at 626-395-4652.  The Miró Quartet, joined by Martin Beaver and Clive Greensmith of the Colburn School will perform sextets by Johannes Brahms at Beckman Auditorium at 3:30 p.m. on Sunday, May 22. For ticketing information, see this Colburn page.
Website resources
Our website at https://pasadenafolkmusicsociety.org, including the site's Resources page, is being updated. The following new information has been added or updated:
— Bluegrass Association of Southern California.  The BASC Bluegrass JamOn is typically held the fourth Sunday of every month. Check their website for current dates, as the schedule has been disrupted due to COVID.
— Mudcat Cafe.  Search for songs and lyrics in the Digital Tradition Folk Song Database, which contains about 9,000 songs.
— AcousticMusic.net.  News and commentary for the folk, roots & singer-songwriter communities.
— BBC Sounds.  Highlights folk and acoustic music from around the UK and the world.
— Bandsintown.  Search for concerts by city, date, artist, festival, venue or genre (folk, blues, jazz, rock, classical, metal, and more).
— Ultimate World and Folk Playlist.  Created for Spotify by Guardian Music. This list of 85 songs is free to access.
— Folk & Acoustic Playlists.  Multiple lists, consisting of thousands of songs in the genres of folk, acoustic, Americana, and bluegrass. Free to access on Spotify.
— SoundCloud.  Free service containing thousands of songs and artists.