Second Series of John McCutcheon online shows
Sunday, September 4, 2022 @ 4:00 pm

-

Sunday, December 11, 2022 @ 6:00 pm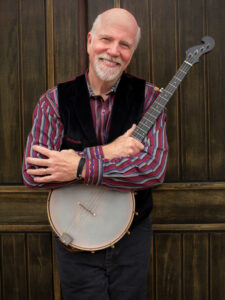 A new four-show series of livestreamed concerts by 50th-year folkster John McCutcheon will begin with a show this Sunday, Sept. 4, at 4 p.m. Pacific Time.  This is a final reminder of your option to get a series discount on purchase of tickets, in the "Ticket type" dropdown menu at this link.
The Sept. 4 show will highlight songs from McCutcheon's new album, Leap!.  It's the 43rd album in his illustrious five-decade career. As Pete Seeger said, "John McCutcheon is not only one of the best musicians in the USA, but also a great singer, songwriter, and song leader. And not just incidentally, he is committed to helping hard-working people everywhere to organize and push this world in a better direction."
The second concert in the series, on Oct. 16, will be an all-request show, enriched by McCutcheon's telling of the stories behind the songs. The third, on Nov. 13, will debut several songs he has co-written with Tom (Last Thing on My Mind) Paxton in the past two years and showcase one that's already been released to worldwide acclaim: Ukrainian Now. The series finale, on Dec. 11, will be "Winter Solstice: A Holiday Concert with John McCutcheon."
All four of these online concerts are on Sundays, starting at 4 p.m. Pacific Time. Ticket-holders get links for watching the show live and also for replaying the show any time in the 48 hours afterwards. The replay option is handy if 4 p.m. is inconvenient for you or you want to enjoy a show a second time, or with pauses to catch the wonderful lyrics better.
For tickets, use the dropdown menu at this link to make your choice. The regular single-concert ticket price is $20, plus $4.60 in fees. The bundled four-show ticket is $65, plus $14.95 in fees. Lower single-ticket prices are available for students and unemployed people. Other options include "family/household" and "music supporter" tickets.
A portion of the ticket sales through this link will go to the Pasadena Folk Music Society, and help cover costs of future in-person concerts.  We are partnering with McCutcheon for this series as we did for some well-received online shows last spring.  From those livestreams, we know we can expect smooth audio-visual logistics and an enjoyable show, almost as if sitting in McCutcheon's living room with him.
As an appetizer for this Sunday's show, check out The Ride, one of the 18 songs on McCutcheon's new album.  It starts the album on a theme about taking risks, matching the exclaimed "Leap!" imperative of the album title. All 18 songs were written during the COVID pandemic. McCutcheon says, "These are not songs about the pandemic. They are songs because of the pandemic."
Some additional information about the four-show series is in our previous mailing at this link. If you have any questions about these shows, just ask by replying to this message.