Nevenka, Eastern European folk ensemble in Ramo Auditorium on Saturday, Sept. 21
Saturday, September 21 @ 8:00 pm
$25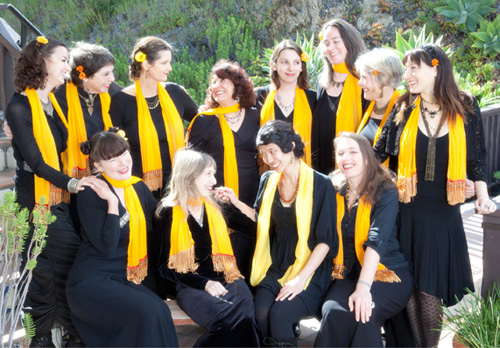 Here's a show like no other that the Folk Music Society has offered. Nevenka is a Los Angeles-based women's folk chorus performing songs from Eastern Europe, including Russian, Bulgarian, Croatian, Greek and others. The group formed in 1976 as an off-shoot of the Aman Folk Ensemble. These women are primarily singers, and there may be over a dozen of them on stage! The singers span 30 years in age, and are a close-knit family with a strong team concept. Performing a delightful mix of roots music and composed pieces, they represent the great diversity within these East European countries. Considering that their music includes non-western rhythms and scales, be aware these are not simple pop songs, but deeply satisfying traditional folk music from the Balkans area. Come be transported in time and place to experience this spirited music!
Our usual venue, Beckman Institute Auditorium, is closed for renovations this summer, so we'll be holding this one in the larger Ramo Auditorium, which is located at the southern end of Baxter, the eastern building of the two identical buildings on either side of the "Beckman Mall", the grassy area south of the round, white Beckman Auditorium. If you know where Beckman Institute is, we'll have signs leading you to Ramo, and if you don't, check out this map, find building 77 and Ramo is at the bottom end. The round map on this page might help you visualize the building better. In this larger hall, a sold out show is unlikely.
Tickets are $25 for adults and $5 for children. They are available for purchase at the Caltech Public Events Ticket Office in the Spalding Building (California Blvd. and Wilson Avenue) for face value (open Monday-Friday from 10:00 AM to 4:30 PM. They can be ordered by phone (with a service charge) by calling the Ticket Office at (626) 395-4652. Tickets can be purchased at the door for cash or check (no credit cards.) Occasionally, a show will be sold out before the day of the show, so call the Ticket Office, if you are planning to buy tickets at the door. Better yet, join our mailing list and you'll be informed about such situations ahead of time. You can buy them online (with a service charge). The ticketing is now being set up, and we're aiming for having things, including online tickets, in place by April 21.
Parking is essentially the same for Ramo as other shows, you'll just walk to a different building. There will be the usual limited parking right behind the large Beckman Auditorium- It is OK to park in slots with names on weekends and evenings, but the lot may fill up, depending on what other events may be taking place on the Caltech campus.  This is the best place to park for the handicapped (try to come a little early- email us at info@pasadenafolkmusicsociety.org if you need help planning your visit). The parking lots between Michigan and Wilson have been closed- a new building is rapidly rising at the southeast corner of Wilson and Del Mar.  The most reliable parking will be on Wilson Avenue, either on the street or in the two parking structures just south of Del Mar Avenue, across the street from Beckman Institute.   One structure is just north of the Institute at 341 S. Wilson Avenue, and the other, 405 S. Wilson, is just a bit south of the Institute.   Rest assured that after 5PM on weekdays, and all day on weekends, you can park for free in these structures, despite signs that allude to the more restricted parking rules during the day on weekdays.   You are permitted to park in slots that have names on them here as well.  From the structures, walk around the big lawn (much of which is currently fenced in for the building projet to the north), past Beckman Institute, on either side of the fountain pools, heading toward the white, round Beckman Auditorium, then turn right and go the the far end of the building on the left side of the big lawn.  On this map, we are suggesting that you can park in structures #123 and #124 in the upper left. Ramo Auditorium is at the far end of building #77.  If you need help figuring this out, try calling (626) 616-4559
More Info: www.nevenka.org
Tickets: $25 / $5 for Caltech students and children.