Perla Batalla: A tribute to Leonard Cohen, Saturday, October 19, presented by Caltech Campus Programs! Receive a $5 discount if you mention the Folk Music Society when ordering tickets! In Beckman Auditorium
Saturday, October 19, 2019 @ 8:00 pm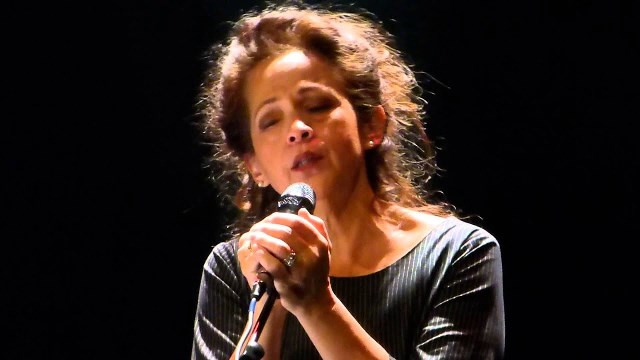 Along with her solo musical career, Southern California songstress, Perla Batalla was also a back-up singer for the great singer and songwriter, Leonard Cohen, before his unfortunate death in 2016. Perla has recorded 7 albums and will be performing in the big hall, Beckman Auditorium on Saturday, October 19. Perla has a big, powerful voice and this show is called A Tribute to Leonard Cohen. She is an excellent interpreter of Cohen's songs, such as Bird on a Wire and maybe we'll also get a sampling of the great things she can do with other people's songs, such as the Spanish language classic, La Llorona. Because the Pasadena Folk Music Society is a marketing partner, Public Events will give you a $5 discount on each ticket you buy. The show will be in Beckman Auditorium (the large, white round building to the east of Beckman Institute.
Ticket prices are $40, 35, 30 / $10 Youth. Mention the Pasadena Folk Music Society when you order the tickets in advance by phone or at the Ticket Office, or if you buy them at the door, and you'll received a $5 discount on each ticket. Call the Caltech Ticket Office at (626) 395-4652 and visit their web page for more information about the show.
A bit about parking:  There will be the usual parking right behind Beckman Auditorium- It is OK to park in slots with names on weekends and evenings, but the lot may fill up, depending on what other events may be taking place on the Caltech campus.  This is the best place to park for the handicapped (try to come a little early- email us at [email protected] if you need help planning your visit). The parking lots between Michigan and Wilson have been closed- a new building is rapidly rising at the southeast corner of Wilson and Del Mar.  The most reliable parking will be on Wilson Avenue, either on the street or in the two parking structures just south of Del Mar Avenue, across the street from Beckman Institute.   One structure is just north of the Institute at 341 S. Wilson Avenue, and the other, 405 S. Wilson, is just a bit south of the Institute.   Rest assured that after 5PM on weekdays, and all day on weekends, you can park for free in these structures, despite signs that allude to the more restricted parking rules during the day on weekdays.   You are permitted to park in slots that have names on them here as well.  From the structures, walk around the big lawn (much of which is currently fenced in for the building projet to the north) in front of Beckman Institute and you will recognize where to go.  On this map, we are suggesting that you park in structures #123 and #124 in the upper left. Beckman Institute is building #74, just to the east (right).