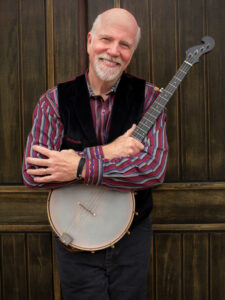 We can't schedule live shows yet, but we have something for you at last!  There's still time, but not much, to get tickets (here) for the John McCutcheon online concert this Sunday, March 6.  It's the first concert in affiliation with Pasadena Folk Music Society since early 2020.
Sunday's show, "Fifty Years of Traditional Music," starts at 4 p.m. Pacific Time.  In case that's inconvenient for you, ticket holders get 48 hours of access to the show online.  Tickets are $20 plus a $4 processing fee.  If you click on the dropdown menu next to "Livestream Ticket" on the ticketing page, you will find discounted options for students and people who are unemployed, a premium-price "music supporter" option, and others.
Though McCutcheon is best known as a strong songwriter and master multi-instrumentalist, his roots are firmly planted in traditional folk music.  In the 1970s, he traveled widely to meet and learn from some of the great talents of traditional Appalachian music.  This concert will nod appreciatlvely to his mentors.
This is the first of four online concerts this season for which PFMS is partnering with McCutcheon.  The others focus more on songwriting and instrumental virtuosity.  In two of them, he's bringing on other wonderful musicians to share the stage.
The April 10 show is "Instrumentalists in the Round."  McCutcheon shines on banjo, dulcimer, fiddle and other instruments.  Johnny Cash called him "The most impressive instrumentalist I've ever heard."  For this show, he'll be joined by Muriel Anderson (harp guitar), Howard Levy (harmonica) and the duo Natalie Haas and Alasdair Fraser (cello and fiddle).
The May 7 show is "The Story Behind the Song." McCutcheon will tell stories about several songs he has written (and will perform) — the sources of inspiration, the historical contexts, the references behind specific lyrics.  Ticket holders may submit requests and questions in advance.
The same ticket pricing applies for each show, at these ticketing pages: March 6, April 3, April 10 and May 7.  A discounted four-show pass for $65, plus $13 processing fee, and a "family/household" four-show pass for $95, plus $19 fee, are available at links from any of those ticketing pages.
McCutcheon has delighted Pasadena Folk Music Society concert audiences at seven in-person shows since 1990.  His 41st album, Bucket List, includes Zilphia's Piano, about the first keyboard to play We Shall Overcome.  It follows his 2020 album of pandemic-inspired songs, Cabin Fever, which includes When All of This Is Over.  He has written some popular songs for children and the classic 1984 ballad about a World War I truce, Christmas in the Trenches.
Topanga Festival, May 15
We are delighted and excited to hear that the 2022 Topanga Banjo Fiddle Contest and Folk Festival at Paramount Ranch in Agoura Hills is a go for Sunday, May 15.  This outstanding family festival started in 1961.  It brings together top-notch musicians like this year's Po' Ramblin' Boys from Tennessee's Great Smoky Mountains and Honey Whiskey Trio (who have played our series a couple of times) and young musicians on the road to mastering fiddles, guitars and other instruments, along with some very talented non-professional adults, who also jam together and compete on the stage for prizes.  It's a fun, child-friendly environment with folk-dancing, food, vendors and exhibitors, and three stages with excellent sound, all to be experienced in the great outdoors.  Bring your instrument, a hat and a folding chair, and you can jam or compete, or listen and wander through it all. Mark your calendar!  Tickets are available now.  We're not sure about masking and vaccination at this point.  We'll learn more before the festival and, of course, it depends on what happens between now and May 15.
Put the Load Right on Global Collaboration
Sometimes the less said the better. Richard Partlow sent us a 2019 video of The Band's classic song from 1968, The Weight, performed by Ringo Starr, Robbie Robertson and, inspiringly, musicians on five continents.  This version, organized by a group called Playing for Change, is uplifting and powerful, much needed for our times.  As one person commented on Youtube, "The musicians are incredible but whoever mixed and edited this deserves 1000 Grammy awards."  Now this is folk music.  Take a listen!
Get your green on
In time to get you in the mood for St. Patrick's Day this month, Folk Alley has put together about 10 hours of tasty songs by Irish musicians, from legends to youngsters, jigs to ballads.  You can listen free here but you'll feel better if you donate first here.
About a decade ago, one legendary Irish band, The Chieftains, recorded an album with Ry Cooder of songs about the "San Patricio" (Saint Patrick) battalion of Irish immigrants who fought for Mexico against the United States in the 1840s.  A Ballad of Love and Glory is a new novel whose characters include that brigade's founder.  The author, Reyna Grande, will discuss the tale and context on Tuesday, March 15, at a signing event at Vroman's Bookstore in Pasadena.  Ticket purchase required. (You're buying the book.)
More book events
The Los Angeles Times Festival of Books will be an in-person event this year, back on the USC campus, easily accessible by Metro trains and buses, on Saturday & Sunday, April 23 & 24. Tickets will be available (most events are free) and the lineup of authors and others will be announced March 16.  The festival always has music, many book vendors, programs for writers, and lots of authors discussing their writing and issues of the day.  Its a great environment!
The Pasadena Public Library has announced its 20th annual One City, One Story program, featuring Susan Straight in a conversation about her book, In the Country of Women, in a Zoom presentation this Thursday, March 10, at 7 p.m.  Sign up here.
Wildflower updates
The Theodore Payne Foundation's Wildflower Hotline begins today with weekly reports. You can call (818) 768-1802, extension 7, for ideas about where to go and what you'll find, described tantalizingly by Joe Spano.  Or you can see it online here.  This has been a dry winter, but the one substantial storm we had brought about some blooms and they're happening now.  We saw some California golden poppies near the 126 Highway on Interstate 5 north of Santa Clarita and some lupines in places on the way to Ventura.  Also, the Foundation's Native Plant Garden Tour will be back in-person this year, on April 23 and 24.  A ticket gains you access to a self-guided driving tour to home gardens consisting of water-wise native plants in the L.A. area. They are inspiring for those who have home gardens and a delight for those who want to experience the splendor of our native Southern California flora at their peak of blooms.  At  each garden are knowledgeable members who can answer questions.  Also, Descanso Gardens' spring bloom in La Cañada Flintridge officially starts in a couple of weeks, with amazing tulip displays and much more.
More folk music
The KPFK (radio 90.7 FM) show FolkScene continues to be a rewarding way to spend a Sunday evening from 6 p.m. to 8 p.m.  Last week's show featured an archived hour with singer-songwriter Anais Mitchell, interviewed by the late Roz Larman. Mitchell is a very talented artist with a delightful personality.  You can hear the entire show on the KPFK Audio Archives (Feb. 27, 6 p.m. to 8 p.m.) for one more week.  You can hear all of the show's guests from recent years at FolkScene's Soundcloud and Apple Podcasts. There's a wealth of good music there.  KPFK also broadcasts Roots Music and Beyond, on Saturdays 6 a.m. to 8 a.m.  That show features four different alternating hosts, each with a different slant on folk music and related styles.  If you don't get up that early, check it out on the Audio Archives as described above.  KPFK is in the middle of a fund drive, and both of these shows are treasures that can use your support.  If you like what you hear, you can help keep them on the air by calling in and pledging during the shows, or go to the KPFK website and pledge here.  Be sure to mention these shows so they get credit.
A new Acoustic Americana Music Guide edition came out March 2 that can give you some ideas about upcoming musical events and other things to do.  And in February, Folkworks posted a recent interview with Laurie Lewis that is worth a listen here.