A quick note for those who have been to our shows and heard that we need help to continue our concert series, please click here to find out what we need, and click on the link on that page to learn more.  Thank you!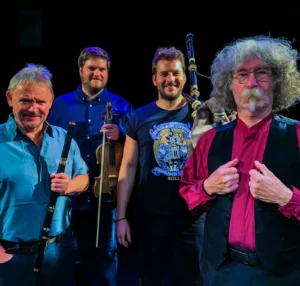 The Tannahill Weavers will give an exciting concert. We know because they have delighted the audiences at three prior shows for us at Caltech, most recently in 2018. This band of Scots has won enthusiastic fans for more than 50 years by blending the beauty of traditional Celtic melodies with the power of modern rhythms and strong vocals.  Check out a sampling of performance videos: a ballad, a jig and one of their own fine songs, The Big Ships.
Two of the band's original members – Roy Gullane on guitar and Phil Smillie on flute, whistles and bodhran – now perform with Malcolm Bushby on fiddle and bouzouki and Iain MacGillivray on pipes, whistles and fiddle.  Their concerts demonstrate the rich musical heritage of the Celtic people.  Their diverse repertoire spans centuries with fiery instrumentals, topical songs, ballads and lullabies.
The concert at 8 p.m. on Saturday, Oct. 29, will be in Caltech's Beckman Auditorium, 332 S. Michigan Ave., Pasadena.  Tickets are $25 for adults and $10 for children.  They are available in advance from the Caltech Ticket Office at (626) 395-4652 or this link, or may be purchased at the door.  Caltech is no longer requiring masks and proof of vaccination for attending concerts on campus.  Anyone who chooses to mask up and socially distance inside the huge Beckman Auditorium is of course welcome to do so.  See you there!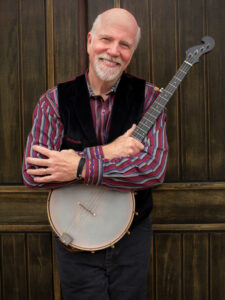 Even before the Tannahill Weavers' in-person concert, we have an online concert set up with folk-music stalwart John McCutcheon on Sunday, Oct. 16.  It's an all-requests show, so sign up soon because the ticket comes with information for submitting requests.  You have 50 years of wonderful songwriting from McCutcheon to choose through. He has based many songs on real historical events and people.  The emotional Streets of Sarajevo tells of one brave man's response to bombing of civilians.  McCutcheon's more-recent Zilphia's Piano sings about the origin of the anthem We Shall Overcome.  His Forgotten draws inspiration from Malala Yousafzai.  His timely Vote, Dammit!, from the late John Lewis.
Start time is 4 p.m. Pacific Time for this online concert, plus two more by McCutcheon later this fall. Ticket-holders get links for watching the show live and also for replaying it any time in the 48 hours afterwards. The replay option is handy if 4 p.m. is inconvenient for you or you want to enjoy a show a second time, or with pauses to catch the wonderful lyrics better.
For Oct. 16 tickets, use the dropdown menu at this link to make your choice. The regular single-concert ticket price is $20, plus $4.60 in fees. The bundled four-show ticket is $50, plus $11.50 in fees. Lower single-ticket prices are available for students and unemployed people. Other options include "family/household" and "music supporter" tickets.
In his Nov. 13 online concert, McCutcheon will debut several songs he has co-written with Tom (Ramblin' Boy) Paxton in the past two years and showcase one that's already been released to worldwide acclaim: Ukrainian Now. The series finale, on Dec. 11, will be "Winter Solstice: A Holiday Concert with John McCutcheon," so it might well include McCutcheon's classic Christmas in the Trenches.  For tickets, use this link for Nov. 13 and this link for Dec. 11.
In other news, first off, and with very short notice, the 50th Anniversary Annual Santa Barbara Fiddlers' Festival is THIS Saturday, Oct. 8, in Goleta (just past Santa Barbara on the 101) as the Fiddlers switch the show from Sunday to Saturday this year.  It is certainly worth the drive. The major guests — Bruce Molsky, Rafe Stefani, Spencer and Rains, Brager and Platz, and Peter Feldman — supported by the contestants, workshops, jam sessions, food, cool ocean air, and natural beauty of the adjacent Lake Los Carneros make this day a winner!
Also tomorrow, Saturday, Oct. 8, 7 a.m. to 9 a.m., KPFK's Roots Music and Beyond will be hosted by Patrick Milligan.  Dave Alvin was the guest with Allen Larman on FolkScene this past Sunday night on KPFK FM. 90.7 PM.  You can hear that show for another week on the KPFK Audio Archives — scroll down to Sunday, Oct. 2, 6 p.m. to 8 p.m. Generally, you can also hear the live interviews on Folkscene's Apple Podcasts and on FolkScene's Soundcloud, though they don't seem to be there yet, as of Thursday night.  Lots of other great guests available when you scan through.  Listen to FolkScene this Sunday, 6:00 p.m. to 8:00 p.m., and hear a fine singer/songwriter/guitarist from Wisconsin, Peter Mulvey.
The Paramount Ranch Sonic Boom Music Festival will be held at Paramount Ranch in the Santa Monica Mountains (which you may know as the site of the Topanga Banjo Fiddle Contest and Folk Music Concert) on Saturday, Oct. 15, 11:00 a.m., for an day of music in the mountains.  Performers will include Dustbowl Revival, Rebirth Brass Band, Dom Flemons, Yosmel Montejo y La Caliente, Eagle Rock Gospel Singers, and Water Tower.  The money raised will go toward rebuilding the Western town movie set.
Caltech's Public Programming has just released news on their upcoming programs for the fall.  Music, science lectures, literature, some interesting programs.  Check them out here.
Well-Worth Watching
Peter Ostroushko was an amazing instrumentalist (mandolin, fiddle and more) who was a longtime regular on Garrison Keillor's Prairie Home Companion radio show.  He also backed Bob Dylan on an album and worked with many people you might recognize.  He was always proud of his Ukrainian heritage and he performed three times in our series.  He died of heart failure 2021 and his family and friends were finally able to have a memorial program in September.  You can watch the entire event on Facebook, (even if you aren't a Facebook member).  Performers included Greg Brown, Prudence Johnson, Claudia Schmidt, and many others.  The program begins with 15 minutes of some of his most beautiful pieces backing a photo montage, and followed by memories and performances by his talented friends.
The film, Greenwich Village: Music that Defined a Generation, a documentary by Susan Sarandon from 2012, can now be viewed on YouTube for free.  Pete Seeger and Bob Dylan played important roles in this heady time in the history of folk music, with topical lyrics and the rise of the singer/songwriter.  The Village scene sounds fascinating, with energy and quickly evolving music.  Much of this is captured in live performance clips and later interviews with people like Tom Paxton, John Sebastian, and many others as they look back on these times.  We can't go back and live in historical times, but the early 1960s era is brought to life by this film for those who didn't live through it.  One of the many memorable segments covers a giant protest, when singing and performing was banned in Washington Square, and there was a police confrontation with a sea of young people defiantly singing the Star Spangled Banner, and some of them were hauled off to jail.
Other October Events
This Sunday, Oct. 9, is a Ciclavia event, which closes streets in parts of downtown Los Angeles to cars, leaving safe streets, where people get out together for biking, walking, and having fun together in a course that covers the now-famous Sixth Street Bridge and will take you to Chinatown, Mariachi Plaza, and Echo Park.  And you can take your bike on the train to get there, which is free all this weekend in celebration of the opening of the new K Line, which runs from Crenshaw and Exposition to Inglewood, and eventually will go to the airport.
Art Night Pasadena is coming, next Friday, Oct. 14, from 6 p.m. to 10p.m.  Some 20 art locations will be open for free, with connecting buses to get you around town.  Ranging from the Art Center College of Design to the Pasadena Museum of History and two different dance sites, this event lets you put together your own evening.
Pasadena is celebrating a fifth year of Walktober,  a series of free guided walks in Pasadena.  You can walk and learn about Caltech on Oct. 29, 8:30 a.m. to 10:30 a.m., the day of our next show there!  Most walks are on Saturdays and Sundays, and many cover less well-known parts of town.
Mary McCaslin
We just learned from the Roots Music and Beyond Facebook page that singer/songwriter/guitarist Mary McCaslin died this past week at 75 years of age in Hemet, Calif.  When she came on the scene, with her distinct voice, open guitar tunings, and fruitful collaborations with Jim Ringer, her music was a total delight.  Listen to her song Old Friends and her haunting treatment of the Beatles' Things We Said Today.  She left a significant body of fine music.