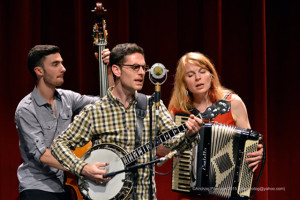 The next Pasadena Folk Music Society show features Jayme Stone's Lomax Project, as this road show passes through California.  The concert will be in Beckman Institute Auditorium at Caltech (Little Beckman) on Saturday, April 23 at 8:00 PM.  Jayme Stone is a world renowned banjo player from Canada who has traveled the world, bridging musical styles in wonderful ways.  In this project, he stays in North America and features an assortment of great roots music, some familiar and others will be new to most listeners.  The original Lomax Project recording features 20 songs that were collected by folklorist, Alan Lomax, who  in the 1930's and 1940s traveled throughout the south, recording rural music, with the hope of preserving this music and making it better known in a changing world.  The recording was nominated for a 2016 Juno Award for "Traditional Album of the Year.."  There have been many musicians involved in the recording and various roadshows, including Tim O'Brien, Bruce Molsky, Margaret Glaspy, Moira Smiley, Brittany Haas, Julian Lage, Eli West and others.  The line-up for this show includes Jayme Stone (banjo, vocals), |Sumaia Jackson (fiddle, vocals), Joe Phillips (bass, vocals)  and Moira Smiley, who needs no introduction to many in our audience (vocals, accordion),.  Songlines called the project, "A groundbreaking piece of work" and National Public Radio said, "They've put a fresh contemporary sound on musical treasures found in Lomax's deep and rich archives."  There is an excellent video that introduces the ideas behind the Jayme's Project, using the words and music of the original performers on last year's recording. Keep in mind that only Jayme and Moira Smiley from this video are on the current tour, but you'd get a feel for what they're up to on this project here. Listen to Leather Britches and Goodbye Old Paint to get an idea of how good this all sounds. Immediately below is a short Q & A with Jayme:
What drew you to Alan Lomax?
I started listening to field recordings twenty years ago when I took up the banjo. Alan Lomax is of course one of the most prolific folklorists of the 20th century and this project gave me the chance to dig deeper into his vast archive. I love the diversity of the songs he collected and revel in discovering new sounds, stories, and people through the process.
What can audiences expect to hear?
We play a good many of the songs from the Lomax Project album. On this tour, we're also debuting fourteen new songs that we've unearthed and dusted off from the Lomax archive. Bahamian sea shanties, Georgia Sea Island spirituals, ancient Appalachian ballads, fiddle tunes, and work songs collected from both well-known musicians and everyday folk: sea captains, cowhands, fisherman, prisoners, and homemakers.
What are your all-time favorite albums, and why?
Bill Frisell's record, "The Intercontinentals," moved me to tears the first time I heard it. It weaves together sounds and people from Brazil, Mali, and America, yet Frisell's mark is indelibly etched in the music. Marc Johnson's album, "The Sound of Summer Running," set the template for my early records in their melding of improvisation with folksy melodies. The first "Remember Shakti" album is brilliant. John McLaughlin, Zakir Hussian, and Vikku Vinayakram have some of the deepest chemistry and camaraderie I've ever heard. I always come back to Martin Hayes and Dennis Cahill's album, "The Lonesome Touch." It's perfect music, like Bach.
What's the first album you ever bought?
Growing up, we had every Bob Dylan and Joni Mitchell record. That music has stayed with me longer than anything I bought myself.
What's your hidden talent or claim to fame?
I love handwriting. My bandmates are always saying that I should design a font for people type their sets lists with.
Tickets for this show are $20 for adults and $5 for Caltech students and children.  You can order them by calling (626) 395-4652. Click here to buy tickets online (till April 21).  The Ticket Office is located at Winnett Student Center on campus, and you can buy tickets there in person without a fee.  They are open 9AM-4PM Monday through Friday.  Coming up are Andrea Beaton and Dick Hensold on Saturday, May 21 and we have just signed fiddler Kevin Burke for Saturday, June 18 in Beckman Institute Auditorium!  Tickets for the latter will be available soon.
We are sorry to note that our friend and former colleague in the Folk Music Society, Pitt Kinsolving, passed away a week and a half ago.  See a eulogy written by one of his friends here.  He was always an important part of the Southern California folk music scene and we will miss him.
Those festivals are coming as we ready for  the Topanga Banjo Fiddle Contest and Folk Festival, a delightful day in the country (Paramount Ranch) with music and dance  on Sunday May 15.   The Claremont Folk Festival is hot on it's heels the following week, on Sunday, May 22.  The Huck Finn Jubilee Bluegrass Festival will be June 10-12, with a great line-up.
Tickets go on sale May 1 for Garrison Keillor's Prairie Home Companion in the final appearance in Los Angeles on Friday, July 1 as he retires from this landmark show that has been a delight and notably a tremendous national stage for folk musicians for over 40 years.
Conscientious Projector will be showing the film, As She Is this Thursday, April 14 at 7:00 PM in Old Pasadena at Armory Center for the Arts, 145 North Raymond Ave., Pasadena.  The healing and transformational power of the feminine and its potential role in redefining human community in a changing world are at the center of this contemplative, lovingly made documentary.
Amy Goodman, of KPFK FM/Pacifica's Democracy Now will speak and sign her new book (along with co-authors, David Goodman and Denis Moynihan), Democracy Now! Twenty Years Covering the Movements Changing America (celebrating the show's 20 year anniversary) at Immanual Presbyterian Church in Los Angeles this Thursday, April 14 at 7:00 PM.  The event is free and within easy reach of the Purple Line's Vermont/Wilshire stop.  Find out more about the program here.
In a couple of weeks, on Wednesday, April 27, the International Uranium Film Festival comes to Raleigh Studios Hollywood, featuring a series of films and a brief panel discussion moderated by Harvey Wasserman and Kat Kramer.  The Festival questions the proliferation of nuclear power and  the risks of radioactivity, from uranium mining to nuclear waste.  Comp tickets are available by contacting  [email protected].