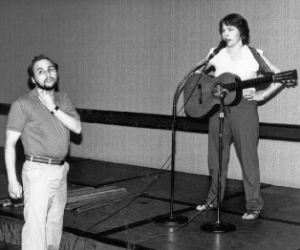 Here's what it looked like at the beginning. In the photo to the right, Joanna Cazden and Brian Toby run a sound check, probably at the very first official Caltech Folk Music Society concert on January 21, 1983.
Brian and Simon Davies founded the Society to bring folk music to Caltech and the greater Pasadena area. Silly Wizard and Stan Rogers are just a couple of the outstanding performers who appeared in those early years.
The series gained a following by presenting wonderful musicians, some very well known, and others, less known, but all incredibly talented. There were a few other early volunteers at this point, mostly students, but when Brian neared graduation, he sought out other volunteers to keep the music series going. The pool of future volunteers was those who had enjoyed the concerts up to that time.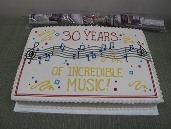 It took a diverse group of folks, mostly non-students, to form a committe, book shows and present concerts, but they were able to learn the many tasks and continue the series. Students and non-students have come and gone in the intervening years, but the Society has been able to maintain a very high level of performers, with people like Utah Phillips, Old Blind Dogs, Fairport Convention, John McCutcheon, and many others over the following years. See the complete list at the bottom of this page.
The performers and the audience have also been critical in the success of this series, but for the moment, we focus on the volunteers. Below is a list of people who have volunteered with the Caltech Folk Music Society over the past 30 years plus a few individuals who or have been critically important in advising or helping from a distance. Since we haven't kept a formal list, undoubtedly some names are missing. If your name should be here, or if you know someone who should be listed, please let us know. We apologize for anybody left off the list. (The names in parentheses are people who have passed on but remain in our gratitude.)
The Caltech Folk Music Society celebrated its 30th anniversary on Saturday, February 9, 2013. It took a lot of people to get us through all those years (and up to current times), and we want to acknowledge them.
Michael Abrams

Dorothy Auyong

Ed Barnum

Eldon Baird

Barbara Ballinger

Ram Basu

Gary Bennett

(Jan Bonjovio)

Bruce Bowler

Bernie Buller

Connor James Caughlan

Gavin Claypool

Judy Cohen

Nancy Covey

Shirley Cromb

Nicole Czakon

Simon Davies

(Ann Daubney Davis)

Lexi Donne

Wes Dooley

Marguerite Duncan-Abrams

Walter Hamilton

(Anna Heimann)

Joe Feinblatt

Pepi Feinblatt

Marina Fournier

Elise Gabriel

Jan Gaffey

Peggy Glenn

Aleta Hancock

Chris Harcourt

Larry Henling

Erica Harvey

Shelley Herman

Frank Hoppe

Tom Hubbard

Chuck Hysell

Emily Johnsen

Gordon Johnston

Joan Kaplan

(Billy Klein)

Nancy Klein

(Pitt Kinsolving)

(Howard Larman)

(Roz Larman)

(John Lonczak)

Scott McGuigan

Duncan Mahoney 

Neil Malley

Nancy Matthews

Rex Mayreis

(Alice Nock)

(Jack Nock)

Kevin Noertker

Jon Othmer

Pat Riley

Alyson Rood

Judy Rosenthal

(Judy Ruggles)

Kelly Sanchez

Caraly Sherman

Roger Sherman

Nick Smith

(Ron Stockfleth)

Ichiro Sugioki

Bob Sweeny

Mary Marg Swift

Kay Sylvester

Jan Tappan

Peter Tarbox

Brian Toby

Dorn Trask

(Elaine Trogman)

Drew Tronvig

Bob Uy

Guy Webster