The Folk Music Society is taking a rest till late January, but here's a quick last reminder about Irish group,  Danú and their special show, A Christmas Gathering: Féile na Nollagm, sponsored by Caltech Public Events, in Beckman Auditorium (Big Beckman) tomorrow evening, Saturday, December 13 at 8:00. You can get a brief taste of this show from last year's Christmas show a the Carpenter Center, and hear them and see them on YouTube .  They are a fine group and you will get a discount of $5 per adult ticket (Regular prices are $32, $27, $22; $10 for children)  if you mention the Folk Music Society.  We highly recommend this show.  Call the Ticket Office at (626) 395-4652 for information and to place orders.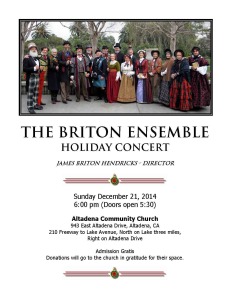 Also coming up, the annual holiday show of Christmas and seasonal music by the Briton Ensemble will be held in Altadena on Sunday, December 21 at 6:00 p.m. (doors open at 5:30).  Admission is free, and donations go to the Altadena Community Church in gratitude for the space.  The Church is at 943 E. Altadena Drive; take the 210 freeway to Lake Avenue, go north on Lake for 3 miles and turn right on Altadena Drive.  This is always a fine program of spirited singing and there is a great sense of community at this show.  Listen to a sample from a couple of years ago and download the flyer for more information about this year's show.
Roz Larman is recovering from a recent hospitalization, but KPFK's Folk Scene broadcast another fine recorded live program on last Sunday's show, featuring the amazing Chris Smither at McCabe's from 2012.  Hear it from the archive at http://archive.kpfk.org for Sunday, December 7 from 6:00 to 8:00 p.m. It will be available for another week. KPFK (90.7 FM) has once again entered a fund drive, and we don't know if Roz will be on the air, but if you pledge during 6:00-8:00 p.m. this Sunday, it would surely make her smile.  You can also send her a get well card c/o Folk Scene, Box 707, Woodland Hills, CA, 91365.
The Folk Music Society has some great shows lined up for 2015, starting with Scottish singer Jim Malcolm on January 24.  We hope you enjoy the holidays and we look forward to seeing you next year!