Paddy Keenan, the extraordinary uilleann piper—joined by guitarist, Padraic Conroy—will perform in just three days, on Saturday, March 14 in Beckman Institute Auditorium (Little Beckman) at 8:00 p.m.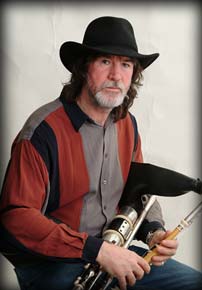 Paddy was born in Trim, County Meath, Ireland, and steeped in the uilleann pipes, which both his father and grandfather played. After dabbling as a teenager with rock and blues, he fell in with the likes of  Mícheál Ó Domhnaill, his sister Tríona Ní Dhomhnaill,  Dónal Lunny, Tommy Peoples, and later, Kevin Burke, forming the celebrated Bothy Band, which forever changed the face of Irish traditional music, merging a driving rhythm section with traditional Irish tunes in ways that had never been heard before. You can catch a glimpse of Paddy's vital role in that outstanding all-star group in a performance of Old Hag You Have Killed Me.
Ken Ricketts and Marya Parker wrote, "In a live situation, uilleann piper Paddy Keenan is probably the most exciting traditional musician in the world. His inventiveness and willingness to take risks most players wouldn't even think of and pull them off makes his playing an endless source of fascination for traditional music lovers, and pipers in particular." In the many years since the break up of the Bothy Band, Paddy has toured the world in various configurations, playing festivals and gigs in the US, Canada, Ireland, Europe, Israel, Australia and New Zealand, the Far East, Russia, and Mali.  We think it is high time that he play in Pasadena! In recent years, he has toured with Irish-American Tim O'Brien, who said, "Paddy Keenan has few peers in the world of traditional Irish music. For over thirty years, he has focused on a simple but rarely attained goal: to present the music in its purest essence. Transcending the technical challenges of the uilleann pipes, flute and tin whistle, Paddy has consistently mined the rough ore of jigs, reels and airs, and worked and reworked their presentation until we, his audience, get to hear the real, pure, life-affirming beauty of them. If the end result is like water from a holy well, Paddy Keenan is surely one of the world's best water witches!"
See and hear Paddy energize an American audience from 2010:
Tickets for the show are $15 for adults and $5 for Caltech students and children. Order them from the Caltech Ticket Office, from 9:00 a.m. to 4:00 p.m. through Friday, at (626) 395-4652 or in person (no service charge) at Winnett Student Center on campus. You can also buy them online until 4:00 p.m. on Thursday, March 12.
Like our show two weeks ago with Socks in the Frying Pan, tickets are selling well, but we suspect that we'll have enough to allow you buy them at the door. But the Socks show came very close to being a sell-out, so we recommend that you don't arrive right at 8:00 p.m., but come a little early to be sure you can get in.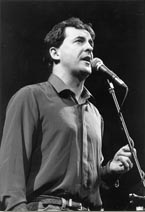 On a somber note, Andy M. Stewart, who appeared twice in our series with the wonderful group, Silly Wizard, and then performed here with Manus Lunny and Gerry O'Bierne a few times, needs some help. As his sister, Angie Stewart Hollin writes, "through a series of medical misadventures, and in September 2012 a failed spinal surgery, he has lost all mobility and was paralyzed from the chest down with many other medical complications."  The last few years have been incredibly difficult, and he will be in the hospital for a considerable time to come. Those who were lucky enough to catch any of these Caltech shows, or heard him elsewhere or on recordings, know that he was a truly exceptional singer, songwriter, and  a very funny man. While we will not hear his wonderful singing again, those who care to return the favor of his marvelous music and humor can help by contributing to the fundraising effort to purchase a motorized wheelchair, and possibly some therapies or equipment that will make his life better. It is a wonderful opportunity to pay tribute to this man and his music while he is alive and in need.  Hear one of our favorites (and there are so many others we could have chosen), Take Her in Your Arms. Find out more about his sister's fundraising effort and contribute at YouCaring.com.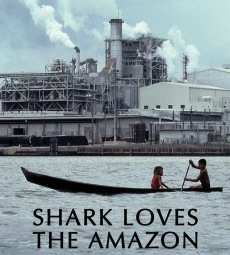 Tomorrow night, Thursday, March 12, Conscientious Projector will offer a free screening of Shark Loves the Amazon, a film about the challenges presented by deforestation, the free market economy, climate change, and the loss of biodiversity amidst the world's largest rainforest. Mark London (author of The Last Forest: The Amazon in the Age of Globalization, written with journalist Brian Kelly) offers an updated analysis and a vision for a sustainable future for the region. The screening is at 7:00 p.m. at the Armory Center for the Arts, 145 North Raymond Ave. in Old Pasadena, 91103, within easy reach of the Memorial Park station of the Gold Line.  See the Conscientious Projector website for more information
This Friday, March 13 is ArtNight Pasadena, a chance to visit most of Pasadena's art institutions for free, connected by free buses, always a great deal of fun. Learn more at http://artnightpasadena.org.