The Revelers
Saturday, January 28, 2017 @ 8:00 pm
$25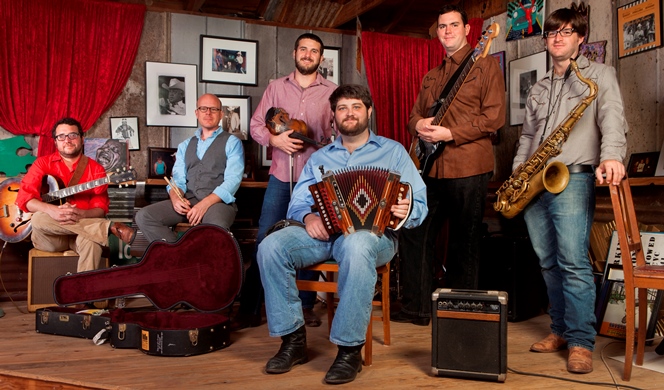 We've got a real Southern band, a Louisiana band, coming to Caltech for this show. They are so big in size (6 members), stature, and anticipated audience size that we're moving over to Ramo Auditorium, a short walk beyond our usual digs in Beckman Institute Auditorium. The Revelers consists of most of the members of the revered Red Stick Ramblers, including Blake Miller, also founding member of the Pine Leaf Boys. This powerhouse Louisiana roots band embraces and bends the boundaries of Cajun, country, zydeco, swamp-pop, and the blues, adding a good dose of their own originals. They have toured the United States and Europe and they are clearly ready for Pasadena. They were the featured musicians for the third and fourth seasons of HBO's Tremé, and that show's music supervisor, Blake Leyh, wrote about their recent recording,
"Cultural renaissance? Smultural renaissance! If this record doesn't make get up and dance, then you must be physically handicapped. If it doesn't teach you something about life, then you must certainly be very wise already. And if it does not, at any point, bring a tear to your eye? Then you must have either a malfunctioning tear duct or a heart of stone.
Whipsmart songwriting, outrageous musical chops, and cutting-edge production have made this record a fixture on my stereo. I cannot stop listening to it. It's not easy to create something brand-new and forward thinking which also lives smack-dab in the middle of history and acknowledges its roots. But The Revelers have done all that and more. I give this my highest possible recommendation."
Don't miss the opportunity to hear band live and in person.
Tickets: $25 / $5 for Caltech students and children