Just three days until the Kathy Kallick Band brings their incredibly talented lineup to Caltech on Saturday, October 10 at 8:00 p.m. in Beckman Institute Auditorium (Little Beckman).  Powered by their brand new CD Foxhounds (being packaged and readied for this tour this week!), they will be bringing an assortment of songs, new and old, originals and classic traditional songs, vocals and instrumentals. The title tune describes Kathy's memory of visiting Bill Monroe one evening back in the 1980s and hearing from Bill's front porch his beloved hounds howling in the night.
Every song they do is a story and has a story behind it and it is a treat to hear this band perform live. Their brand of bluegrass takes them into old time and country music territory as well. Hear them do one of Kathy's fine originals, Fare Thee Well and then hear (and see) the joy in their performance of the traditional tune, Roscoe:
Carey Black is a fine bass player who has performed with everyone from  The Boys of the Lough, Petula Clark, and Laurie Lewis to Eddie Cleanhead Vincent! Tom Beckeny is a fantastic mandolinist who has mastered the Jesse McReynolds technique and has played with Kathy's band for almost 20 years. Greg Booth steps out on dobro, along with solos by Tom on mandolin and and Annie Staninec on fiddle on Panhandle Rag.  Greg is also a tremendous banjo player, and it turns out that Annie is pretty good on banjo, too.  Hear the band do Banjo Pickin' Girl  with Annie on fiddle and then hear her do the same song solo on banjo (along with a couple of adorable kids). This band is incredibly talented.
There are no reviews of the new CD yet, but about the last one, Wayne Bledsoe of KMST's "Bluegrass Saturday Night" in Rolla, Missouri wrote the following:
"Kathy Kallick's latest release, Time, could have very well been titled "Timeless," as that describes the inherent appeal of the fourteen tracks selected for the recording.  Her rendition of classics by Bill Monroe, The Delmore Brothers, Arthur Smith, and Vern and Ray contains a musical respect for the past that will please the most demanding traditionalist, yet each tune is embossed with a pleasing aural presentation that is totally contemporary. Although Kathy's homage to the past is highly commendable, it's actually her four originals (Time, Fare Thee Well, Bird, and Lulu and Jack) that push Time into the "Timeless" zone. Each of the songs penned by Kathy contain the seeds from which classics of the future are grown. Time is pure "Kallick Magic" and recommended for all discriminating music lovers."
If we haven't convinced you to come yet, listen to the traditional Cotton Eyed Joe, which starts mournful, but ends joyful.  Don't miss this show!  Tickets are $20 for adults and $5 for Caltech students and children. Order them at the Caltech Ticket Office, 9AM-4PM, Monday through Friday at (626) 395-4652 or in person (no service charge that way) at Winnett Student Center on campus. You can buy them online (till Thursday) and also at the door on Saturday night.
ALSO…
A reminder that Art Night Pasadena is this Friday, October 9, 6:00-10:00 p.m.!  See http://www.artnightpasadena.org.
The Old Fiddler's Convention is in Goleta this Sunay, October 11.  Find out more at http://stowhouse.com/events/fiddlers.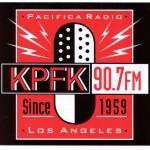 Finally, radio station KPFK really needs your help. The station is fighting for its survival. If you appreciate their offering of alternative radio, including folk music oriented shows FolkScene, Roots Music Beyond, and Uncle Ruthie's Halfway Down the Stairs, as well as news and social issues shows, such as Democracy Now, Background Briefing, and Uprising, they have begun a critical fund drive this week at 90.7 FM. You can give an extra boost to their folk offerings by making a contribution this Saturday between 6:00 and 8:00 a.m. with Mark Humphrey and Tom Nixon, or on Sunday with Roz Larman on FolkScene between 6:00 and 8:00 p.m. Listen on the KPFK Audio Archives at http://archive.kpfk.org to hear Tom Paxton and Rosalie Sorrels sing and be interviewed by Howard Larman on the Sunday, October 4 6:00-8:00 p.m. slot to be reminded of the fine things Folk Scene brings us. We couldn't quite manage to get Tom Paxton to Caltech, but we are proud to have featured the wonderful Rosalie three times. These two shows were both recorded back in the late 1970s, and they beautifully illustrate the enormous talents of these two musical legends.