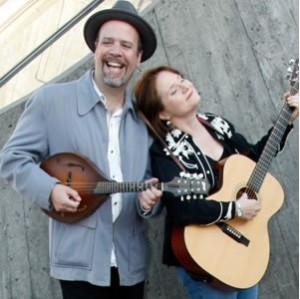 The Folk Music Society presents Claudia Russell and Bruce Kaplan, from Point Richmond in the San Francisco Bay area on Saturday, November 7 in Beckman Institute Auditorium at 8:00 PM. Claudia is a fine singer and songwriter and she also plays guitar. Bruce Kaplan, her husband, also sings and plays guitar and mandolin as well. They may be joined by another musician or two, but it is Claudia's songs and singing, as well as the musical chemistry between Claudia and Bruce that fuels our anticipation of a great show. Their most recent recording, All Our Luck is Changing, produced by Peter Case, has gained a lot of attention as they tour the country. Find out more about them at their website. Don't miss their debut in our series! Tickets are $15 for adults and $5 for children. Call the Ticket Office at (626) 395-4652 to order tickets, visit them between 9:00 AM and 4:00 PM on the Caltech campus, near where Holliston Avenue runs into the campus at San Pasqual Street) or buy tickets online.
Listen to them do the title tune from Claudia's newest CD below.
---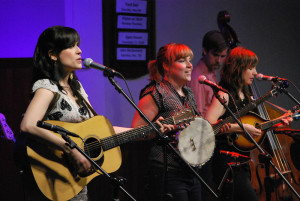 One week later, on Saturday, you can experience the outstanding voices of the Good Lovelies, the trio who won a Juno Award (the Canadian equivalent of the Grammys) in Big Beckman, Beckman Auditorium, just east of Beckman Institute Auditorium, where the Folk Music Society has its shows. This program is presented by Caltech Public Events, and the Folk Music Society is partnering with them. Regular prices are: $35, $30, $25 / $10 Youth, but there is a $5 discount on any ticket if you mention the Pasadena Folk Music Society when ordering in advance or if you buy tickets at the door! They have magnificent harmonies reminiscent of the Andrews Sisters, and they are lots of fun! See their website.
Hear them do their song "Lie Down" in the video below.
---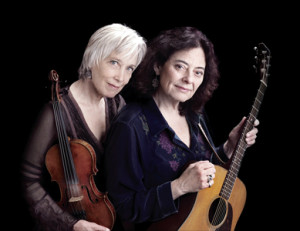 On Saturday, December 5, the Folk Music Society is very proud to present Laurie Lewis and Kathy Kallick, a pair of tremendous California bluegrass talents as they combine their outstanding voices, along with Kathy's guitar and Laurie's fiddle and guitar on some great bluegrass and old-time numbers. They will be joined by the Kathy Kallick Band's bass player, Cary Black, and Laurie's longtime partner, Tom Rozum on mandolin and guitar, and the banjo player from her group, the Right Hands, Patrick Sauber. This will be an amazing night and the opportunities to see these two great performers together are rare. They will play a completely different repertoire from Kathy's show with her own band in October, and from Laurie's last appearance at Caltech in 2014. You will hear some great traditional bluegrass harmonies from these two ladies, backed by excellent musicianship. Visit Laurie's website and Kathy's website to find out more about them. Come savor this rare treat!
Hear Kathy and Laurie sing the gospel song, Happy I'll Be: