The Pasadena Folk Music Society's last show of 2014 features the amazing harmonies of the T Sisters at 8:00 p.m. this Saturday, December 6 in Beckman Institute Auditorium (Little Beckman) on the Caltech campus in Pasadena. Along with their wonderful voices, Oakland's Tietjen sisters will be bringing a bass player and a mandolin player, as well as a wide assortment of original songs and a few covers of other people's songs, such as Paul Simon's "American Tune," which you can hear them do a cappella. They play guitar, banjo, washboard, and mandolin, and everybody on the stage and in the audience has a lot of fun.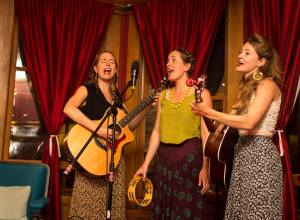 Last summer, they sang "The Star Spangled Banner" at AT&T Park just before the San Francisco Giants went on to win the World Series. In case you missed the YouTube links in our earlier messages, you might want to listen to them singing "It Was Me,"  and Willie Nelson's "If You Can't Undo the Wrong, Undo the Right."  Another favorite is Chloe Tietjen's "Molasses." Their web site is http://tsisters.com. Even if Saturday is the night for your annual staff holiday party for work, leave the party early. They are an up-and-coming group with a lot of spirit and a brand new recording produced by Laurie Lewis. We're delighted to present them. Don't miss this show!
Tickets are selling well, but you should be able to buy them at the door. They are $15 for adults and $5 for Caltech students and children. Call (626) 395-4652 for information and to purchase them in advance with a credit card or you can also buy them online but only until until 4:00 p.m. today, Thursday. Jim Malcolm, from Scotland, will open 2015 on January 24!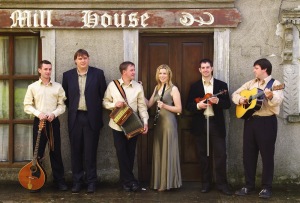 Another reminder about Irish group  Danú and their special show, A Christmas Gathering: Féile na Nollag, in Beckman Auditorium (Big Beckman) the following week, on Saturday, December 13. You can get a brief taste of this show from last year's Christmas show a the Carpenter Center. Hear them at https://www.youtube.com/watch?v=bg0ZyDuWCzc and see them at https://www.youtube.com/watch?v=wQ_PjSvjweI. They are a fine group and you will get a discount of $5 per ticket (regular prices are $32, $27, $22; $10 for children) if you mention the Folk Music Society. We highly recommend this show, sponsored by Caltech Public Events. Call the Ticket Office at (626) 395-4652 for information and to place orders.
There will be a free concert tonight, Thursday, December 4 at 6:00 p.m. as the Altadena Public Library features the Celtic music of Four Shillings Short. See the Pasadena Now site for more information. Note the early start time.
Also tonight, at 7:00 p.m., KPFK sponsors a free talk by author Reese Ehrlich, who will talk about Inside Syria: The Backstory of Their Civil War and What the World Can Expect. The program will be at Throop Church in Pasadena and Mr. Ehrich will be introduced by KPFK's Sonali Kolhatkar. Get some insight to this very complicated situation. See the KPFK website for details.
KPFK (90.7 FM) has some fine music available on the Archives from the past week's radio shows at http://archive.kpfk.org. These shows are available for 2 weeks after their broadcast. Hear Mary Katherine Aldin with a special Thanksgiving Alive and Picking show, from Thursday, November 27 at noon, featuring some great music, beginning with John McCutcheon and a host of others. John and Deanne Davis did their occasional stint on Saturday, November 29, 6:00 to 8:00 a.m., featuring the usual great selection of songs, including a few Christmas songs, such as Stan Rogers's "First Christmas Away from Home" and John McCutcheon's moving "Christmas in the Trenches" … some fine songs! Hearing programmers like this do a show makes you realize the shortcomings of robotic music web sites like Pandora. Finally, Roz Larman's Folk Scene show from Sunday, November 30, 6-8 p.m. featured a repeat of a great live concert/interview with John McEuen and friends, a delightful show with great music and stories about the landmark album Will the Circle Be Unbroken, the Nitty Gritty Dirt Band, and whatever else came to John's mind that night.   Incidentally, Roz has had some significant health issues in the past couple of weeks, so if you want to send a card, you can write to her at Folk Scene, Box 707, Woodland Hills, CA 91365.
In a few weeks, the annual holiday show of Christmas and seasonal music by the Briton Ensemble will be held in Altadena on Sunday, December 21 at 6 p.m. (doors open at 5:30). Admission is free, and donations go to the Altadena Community Church in gratitude for the space. The Church is at 943 E. Altadena Drive. Take the 210 freeway to Lake Avenue, go north on Lake for 3 miles and turn right on Altadena Drive. This is always a fine program of spirited singing and we highly recommend it!