Award-winning vocalist, Susie Glaze, mandolinist Steve Rankin, fiddler Mark Indictor and bassist Fred Sanders are The Susie Glaze New Folk Ensemble, the newest version of the acclaimed Los Angeles-based Americana group, a lush new folk Americana fusion ensemble, presenting gorgeous eclectic blends of mountain folk and exciting new grassy and Celtic-inspired originals, all with the remarkable voice of Susie Glaze. The group has been likened to the classic British bands Pentangle and Fairport Convention in that they blend classic folk music with rough-edged stories of tragedy and fate, all with orchestral arrangements sounding like chamber music gone folk! The band has appeared at many premier venues and festivals on the West Coast, including Berkeley's Freight & Salvage, McCabe's Guitar Shop, The Broad Stage, the Hollywood Bowl, Palms Playhouse, Don Quixote's Music Hall, Kuumbwa Jazz Center and our former selves, the Caltech Folk Music Society, among others. The LA Weekly recently named them #3 on their list of best Americana and Country bands in Los Angeles – click here and scroll down just a bit to go straight to their description of the band. Their CD White Swan was released in March of 2013 to critical acclaim from No Depression, FolkWorks, Pop Matters, M Magazine for Musicians, Music News Nashville and FolkWords UK among others, and charted in the Top 50 on the Roots Music Report's Combined Internet and Terrestrial Folk Chart. Their new album Not That Kind of Girl produced by Herb Pedersen was released in June 2015 and is enjoying critical acclaim and radio airplay around the country. "If there were a word to describe this fine band, it would be sophisticated. They draw influences from disparate sources to meld their sound. The level of musicianship is exemplary.… display a great range of prowess and work as a tight unit." — Bluegrass Unlimited. "…one of the finest and most original Americana groups in California (or in the country for that matter)." No Depression. Augmenting their sound is the lush, Celtic sounds of Rankin's bouzouki, the mountain sounds of Susie's Appalachian dulcimer and traditional autoharp, with Mark Indictor's virtuoso fiddling and Fred Sanders' remarkable bass work rounding out the orchestral nature of this amazing ensemble. Joining the group for this show at Caltech will be their original songwriter and lead guitarist, original founding member of the Hilonesome Band, Rob Carlson. Visit their web site at www.susieglaze.com
Susie Glaze has been honored to be included on the newly-released Compass Records tribute album Dear Jean – Artists Celebrate Jean Ritchie alongside such artists as Judy Collins, Pete Seeger, Janis Ian, Tim O'Brien, John McCutcheon, Robin and Linda Williams and many more. Copies of this CD will be available at this show.
"The band is tight, great picking, and beautiful vocals and harmony." KVMR, Nevada City, CA
"She held the audience in the palm of her hand…." Scott Valley Bluegrass Festival
"…does something with a song that only great singers can do…" KCSN, Northridge, CA
"One of the most beautiful voices in bluegrass and folk music today." KPFK's FolkScene
"…with people like this to trust, my music will go on living, and soaring. And so will I." Jean Ritchie
The show will be in Beckman Institute Auditorium (Little Beckman) at 400 South Wilson Avenue. On concert night, free parking is available in the lots at the south end of Michigan Avenue. Tickets are $20 for adults and $5 for children and Caltech students. They will be available soon at the Caltech Ticket Office by calling (626) 395-4652 and at the Caltech Ticket Office in their new location at 1200 E. California Boulevard in Pasadena (Southeast corner of Wilson Avenue). Their usual hours are 10:00 a.m. to 4:30 p.m., Monday through Friday. There is limited short term parking in front of the Spaulding building on California and to the side on Wilson. Otherwise, you can find street parking nearby. Online tickets are now available- click on "Purchase Tickets" below. There is a fee for phone orders and for online tickets, while purchases at the Ticket Office are free. Tickets can also be purchased (without additional fee) at the door of the venue one half hour before the show, but it is always wise to call the Ticket Office a day or two before a show to ensure they are not close to a sold out show. We hate to have to turn people away, which occasionally happens!
Finishing up the year, we will have Laurie Lewis and the Right Hands (Dec. 9) and next year, we have Jim Malcolm (Jan. 27), Peter Yarrow (Feb. 1 in Ramo Auditorium), Old Blind Dogs (Feb. 23- Note date change!), John Gorka (Mar. 3), Claude Bourbon (April 28), Bryan Bowers (May 12), Jeni Hankins (Oct. 6), and Bill Staines (Oct. 20). And we're working on more! Not to mention two shows that we are marketing partners with Caltech's Public Events (featuring a $5 discount if you mention the Folk Music Society when ordering tickets). These shows feature Adonis Puentes and the Voice of Cuba Orchestra (Jan. 20 ) and the Kingston Trio (Mar. 31.)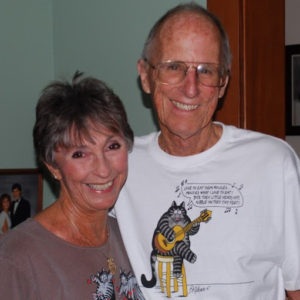 We sadly note that John Davis, who hosted a wonderful radio show called Heartfelt Music on KPFK with his wife, Deanne, for many years, died on Monday, October 9 at the age of 84. See Deanne's remembrance in the Mountain Views News (volume 41). We couldn't find the version of Charlie Louvin's My Baby's Gone that John used to play (and Deanne mentions in her tribute) but this link conveys it quite well. For well over 50 years, John played and promoted folk music with a passion on several radio stations. We knew him for the long running Saturday morning Heartfelt Music, on KPFK, a show that introduced us to many new performers, many of whom we were able to present in our series at Caltech. John was a great filter of the many lesser-known artists, finding extraordinary songs by often obscure artists who were seldom played anywhere else. He was especially drawn to songwriters who have something to say and say it well, and he often connected these songs to his own life experiences. He also liked songs that were fun. Listeners felt like we were spending time with a friend sharing songs and chatting for two hours each week. Deanne joined him on the air, some 20-25 years ago, and we came to know his whole family, celebrating the birth of grandchildren and mourning their losses, as well. When Michael Smith (writer of The Dutchman) released his very excellent and personal album, Michael Margaret Pat & Kate, John played the entire album on the show, breaking it into 3 or 4 songs a week, so that we could all savor this very fine recording together.
Listening to their opening and closing theme song, It's a Beautiful Life (vocal by Maura O'Connell, dobro of Jerry Douglas) brings back memories of great music and good times. One waits for John to break in and say, "Hi and good morning…" but alas, this doesn't happen. His earlier theme song, Paul Siebel's She Made Me Lose My Blues brings back good memories, too. John and Deanne will no longer play Mumbo Gumbo's Barbecue song around the summer holidays, or Robert Earl Keene's Merry Christmas from the Family at Christmas time. There were a whole slew of other songs that John would play from time to time that we will surely miss, such as Marley's Ghost's Meet Me Boys on the Battlefront and Pam Gadd's All the Old Men in My Life are Gone. Thank you, John for all of those years of sharing your music and your life with us! We offer our deepest condolences to Deanne and the Davis family.
See Mary Katherine Aldin's tribute to John on the Folkworks web site. John's memorial service will be Saturday, November 4th at 1:00pm at First Church of the Nazarene, 3700 E. Sierra Madre Blvd., Pasadena, CA 91107. In lieu of flowers, donations to World Vision's Clean Water Project would be greatly appreciated. John's ID/Pledge Number is D10002667. The address: World Vision, PO Box 70399, Tacoma, WA 98481-0399.
Prairie Home Companion, with Chris Thile will broadcast their October 28 show from the Pasadena Civic Auditorium, 3:45 – 6PM. Check here for information.
Caltech will be having a couple of special free astronomy programs in November that you might want to attend. On Wednesday, November 1 at 8:00 PM In a wrap-up of the important Cassini Project, Linda J. Spilker will give a presentation, Going Out in a Blaze of Glory: Cassini Mission Highlights. And on Wednesday, November 15 at 8:00 PM, Heather A. Knutson will present The Grand Tour: Exploring Planets Outside the Solar System. You might want to arrive good and early, as these programs can fill up. These programs are in Beckman Auditorium (Big Beckman) and part of the Ernest C. Watson Lecture Series
Glendale Community College will feature a free talk about climate change during the day on Thursday, October 26 from 12:20 to 1:30 PM. The History and Impact of Climate Denialism will be presented by Dr. Alex North of the UCLA Center for Climate Science in Kreider Hall SR 138.