The Pasadena Folk Music Society will present Susie Glaze & The Hilonesome Band Saturday, June 13 in Caltech's Beckman Institute Auditorium (Little Beckman) at 8:00 p.m. If you've heard them before, you know Susie's beautiful, pure voice and the enormous instrumental and vocal talent of her band, named after the "high lonesome sound," a phrase attributed to Bill Monroe in describing bluegrass music.
Featuring Susie (lead vocals/guitar/autoharp/mountain dulcimer), Rob Carlson (resident songwriter/lead guitar/dobro/vocals), Steve Rankin (Mandolin/guitar/bouzouki/Deering Old Time Banjo/vocals), Mark Indictor (fiddle/vocals), and Fred Sanders (bass/vocals), this band is sure to please. They've got a wonderful new CD out, Not that Kind of Girl, which was produced by the great Herb Pedersen (Loafer's Glory, Desert Rose Band, Dillards) and they range from bluegrass to country, and Celtic to Appalachia. They're a lush newgrass Americana folk fusion quintet presenting gorgeous eclectic blends of mountain folk and exciting new grassy and Celtic-inspired originals, many composed by band member, Rob Carlson. Susie continues to do a song or two of Jean Ritchie, sometimes known as the "Mother of folk," who sadly passed away earlier this week (see below). Susie has been honored to be included on the recently-released Compass Records tribute album Dear Jean – Artists Celebrate Jean Ritchie alongside such artists as Judy Collins, Pete Seeger, Janis Ian, Tim O'Brien, John McCutcheon, Robin and Linda Williams, and many more.
To get an idea of their sound, listen to them perform Ernest Troost's "Evangeline" and Jean Ritchie's "One More Mile" on YouTube. And here they are doing the original Rob Carlson song "Never Give Up."
Their website is http://www.susieglaze.com. Tickets for the show are $15 for adults and $5 for Caltech students and children. Order them at the Caltech Ticket Office from 9:00 am. to 4:00 p.m., Monday through Friday at (626) 395-4652 or in person (no service charge) at Winnett Student Center on campus. You can also buy tickets online.
Next season is starting to come together nicely, with a double bill of Marina V and Aireene Espiritu on August 22, John Flynn on September 26, the Kathy Kallick Band on October 10, and Andrea Beaton & Dick Hensold on January 16.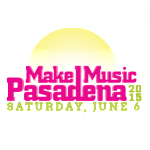 The Pasadena Folk Music Society is co-sponsoring the Pasadena Central Library stage of Make Music Pasadena this Saturday, June 6 in the Donald R. Wright Auditorium at 285 E. Walnut Street, at Garfield Avenue. The free music festival will feature performances by 11 mostly local performers, some of whom have either played in our series or are being considered for future shows. You can even hear our own Board member, Tom Hubbard, who you have probably met if you ever bought a CD at one of our shows. Tom is part of H2nes. Get a great introduction to some fine acts. Parking in the Library's lot in back can be a challenge, but you may find parking on surrounding streets. If you want to take the train, the library is only four blocks from the Gold Line Memorial Park station. Here's the schedule:
11:00 :: Wild Mountain Mystics
11:30 :: H2nes
12:00 :: Phil Ward
12:30 :: Dan Frechette and Laurel Thomsen
1:00 :: Shelby and Tieg
1:30 :: Gary Stockdale
2:00 :: Lauren Adams
2:30 :: Aireene Espiritu and Ed Tree
3:00 :: Lois Blaisch
3:30 :: Karen Tobin
4:00 :: Severin Browne & guests from the Tall Men Group
This stage is co-sponsored by the Pasadena Folk Music Society, the Pasadena Public Library and Espress Yourself. We think this is the most impressive line-up of the 30 different stages in all. The Make Music Pasadena web page is http://www.makemusicpasadena.org and a listing of all the stages can be seen at http://www.makemusicpasadena.org/line-up/complete-schedule. Spend the day and evening in Pasadena!
As mentioned above, Jean Ritchie passed away this past Monday. A few of us remember hearing Jean's wonderful voice, mountain dulcimer, autoharp and guitar in a free, informal show in Caltech's Dabney Hall way back in 1979, well before Brian Toby founded the Folk Music Society. You can see it listed in Caltech's student newspaper, The California Tech, in the Caltech Y calendar at the bottom on page 2  in this PDF version of the paper.
This announcement is from American Folklife Center:
We're very sad to pass on the news of the death of Jean Ritchie on Monday, June 1. She was 92 years old. No one was more important to the survival, appreciation, and revival of traditional Appalachian folk music in the twentieth and twenty-first centuries than this ballad singer, songwriter, folk song collector, Fulbright scholar, and champion of the Appalachian dulcimer. The producers of a recent tribute CD to Jean write:
"We are so sad to have to share the news that our beloved Jean passed away on Monday evening. She was surrounded by members of her family, who sang at her bedside in the last hours. Her family asks that in lieu of flowers, memorial donations be sent to Appalachian Voices."
Ritchie was recorded many times for the AFC archive—our first recordings of her go back to 1946. In 2009, she and her late husband, the photographer and filmmaker George Pickow, arranged for their extensive archive of audio and video recordings, film, photographs, and manuscripts—the results of their seven decades of involvement in traditional performances and folklife documentation—to be preserved in the AFC archive. To read more about Ritchie, Pickow, and their remarkable collection, please download the issue of Folklife Center News.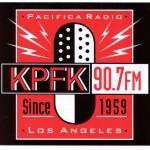 Finally, you can still hear Heartfelt Music with John and Deanne Davis (broadcast last Saturday from 6:00 to 8:00 a.m.), and the May 31 (6:00-8:00 p.m.) episode of Folk Scene, featuring  Howard Larman's interview with performance of Jackson Brown, in the KPFK Audio Archives.